Get paid faster with Reckon Payments
Accept payments online & make it easy for your customers to pay you.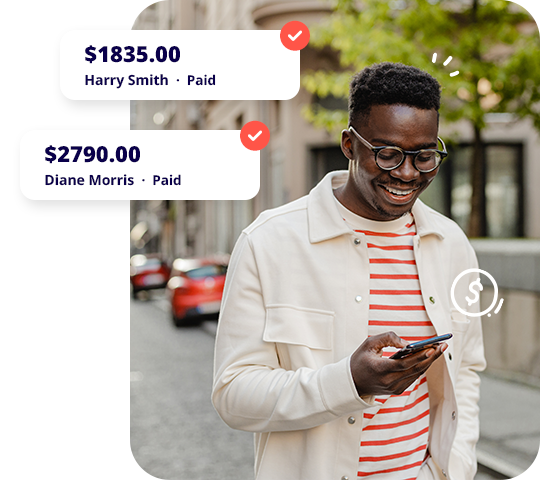 Reckon Payments makes it easy to get paid
Connect Reckon Invoicing with Reckon Payments and take credit card payments directly from your Reckon invoice. Your customers can pay their invoices anywhere, anytime and on any device by simply clicking the "Pay Now" payment link. With more payment options, you'll have happier customers and get paid faster!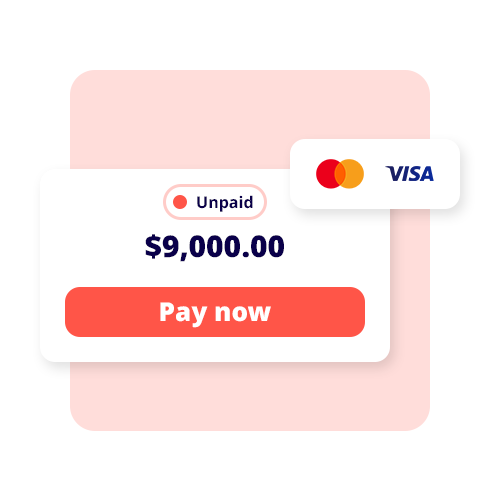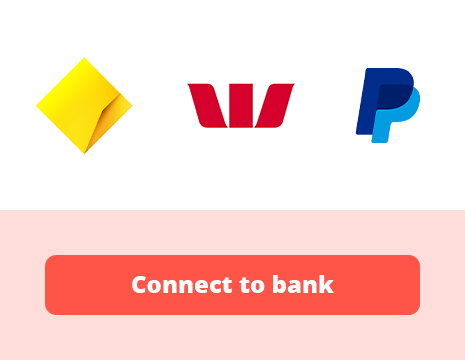 Market-leading rates of just 1.5%
Our payment processing rate of just 1.5% is much lower than the competition – see comparison >
Plus, Reckon Payments has no additional per-transaction costs or monthly account fees to worry about so you can be confident you won't get stung with hidden costs!
Compare Reckon Payment's market-leading rates



2.6% + 30c per
transaction
3.6% + 30c per
transaction


1.99% + 30c per
transaction
2.7% + 30c per
transaction


*AMEX and Direct debit available from March 2023.
To the best of our knowledge, the data is accurate as at May 2022. It is subject to change. Calculations in comparison tables may vary based on personal data input. We make no representation or warranty in relation to the data.
Save time & cut down on manual invoicing processes
Reckon Payments simplifies your invoicing and ensures you get paid faster, helping to boost cash flow and cut admin.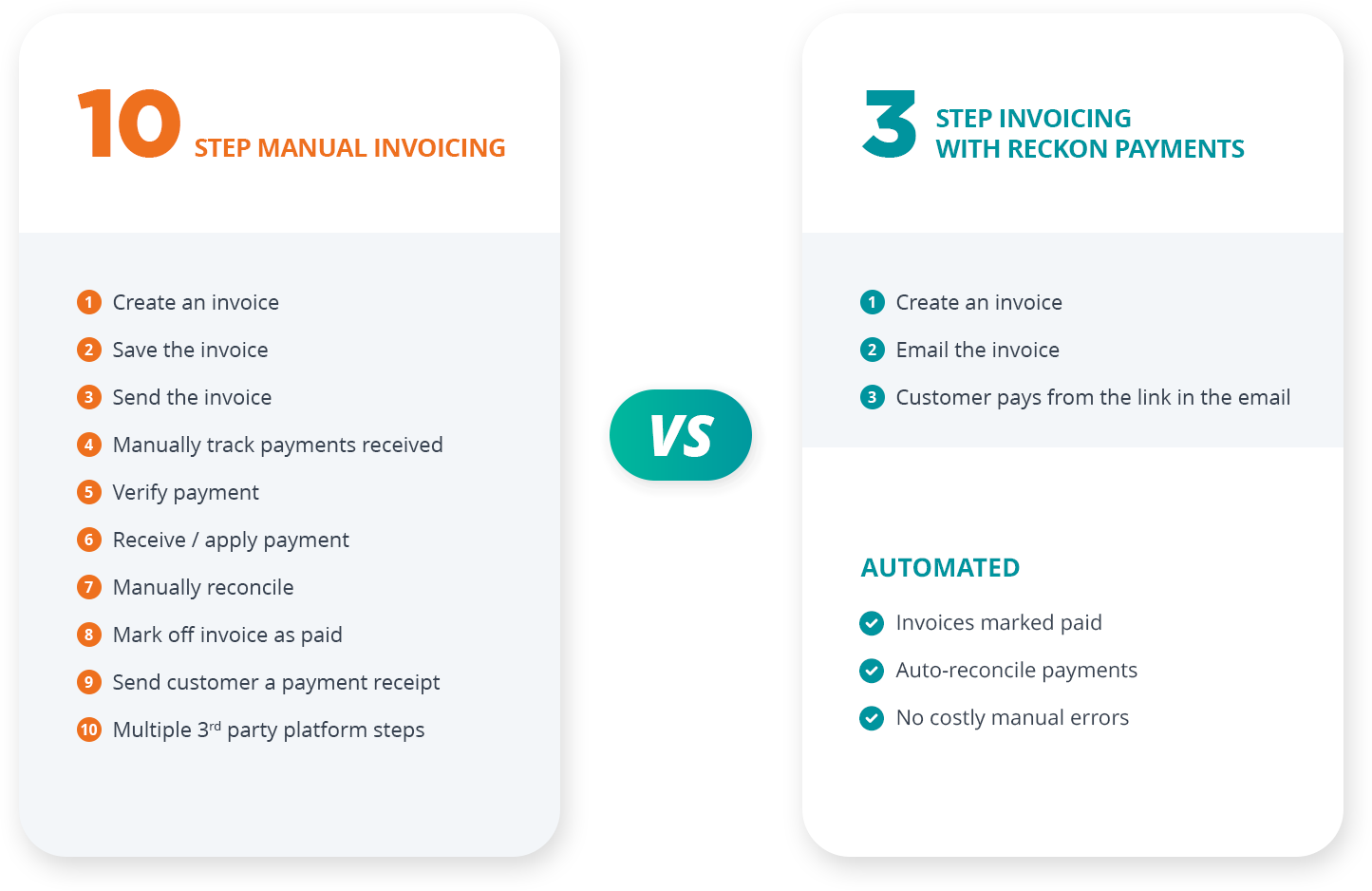 How does Reckon Payments work?
Reckon Payments integrated into Reckon Invoicing software. 
1. Sign up for Reckon Payments
Follow the prompts in Reckon One Invoicing to navigate to the invoicing payments screen. Sign up for Reckon Payments and provide us with a few key details. You can watch our step-by-step instruction video here. 
2. Accept online payments
Once Reckon Payments is enabled your invoice will include "Pay now" links that allow your customers to pay directly from the invoice via credit card (AMEX and direct debit from March 2023).
3. Automatic reconciliation
When a customer pays you via Reckon Payments, a receipt will then be created in your book and linked to the invoice to mark it as paid.
Frequently asked questions
What is the payment processing rate?
We like to keep fees simple and transparent, which means you only pay what your customers transact. Our payment processing fee is 1.50% including GST for domestic transactions and 2.9% including GST for international transactions. This rate is highly competitive in the market!
What products does Reckon Payments integrate with?
Reckon Payments currently integrates with Reckon One. 
How long do the funds take to clear?
Your transaction date + 7 business days.
What payments are included?
Visa and Mastercard will be offered intitially with AMEX, Asian wallets and Direct debit coming soon!
Are there any other costs associated with Reckon Payments?
Unlike some providers, we have no account set up fees and monthly fees. 
How do I get started?
New to Reckon: To use Reckon Payments you must have a Reckon One account with invoicing enabled. To see our range of plans with invoicing click here.
Current customer: We've put together a step-by-step instruction video here on how to get started. Log in to Reckon One and navigate to the payments screen within the invoicing module. Fill out a few details to enable Reckon Payments directly from your software. Once enabled your invoices will automatically include Pay Now links and you'll enjoy the benefits of reduced manual invoicing processing.
Try invoicing with Reckon Payments free for 30 days
Get Reckon One Invoices today, enable Reckon Payments & get paid faster!