RECKON VS MYOB
Looking for an MYOB alternative?
You've come to the right place.
Reckon One is a better kind of online accounting software you could run your business with.

 Or convert from MYOB for free
Reckon is the ideal MYOB alternative. Here's why!
A better price. Get fully featured online accounting software from just $5/per month.
Less clunky.  Reckon One is built  for everyday business owners with the latest in design and user experience principles.
More flexible. The only solution on the market that allows you to add and remove features as your business changes.
Superior user controls. Reckon One let's you assign user permissions for accessing specific types of data such as payroll or reporting, MYOB Essentials doesn't.
Payroll and Single Touch Payroll for unlimited employees. The price stays the same if you have 1 or 100+ employees.

"I use quite a few programs including MYOB and Xero. Reckon is the easiest to use, and the most user friendly, and I love the reporting."
— Dell O'Brien
Online accounting software that is up to 80% less than MYOB.
We don't spend on massive marketing campaigns. Instead, we invest in better software.
The end result? Modern accounting software with premium features at a fairer price.
The price difference speaks for itself!
Reckon One vs MYOB Essentials Starter. Data correct as at November 2016.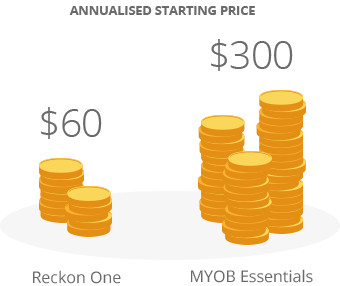 "Easy to use, and can only get charged for what you use, at a reasonable price."
— Brenton Wilson, Wilson Autocare
Reckon vs MYOB
Get more bang for your buck! Don't pay more for the same features.
RECKON ONE
with Invoice, BankData & Payroll modules.
Keep on top of GST & BAS
Works on both Mac & PC
Free product updates
Unlimited payroll
Automatic bank reconciliation
Unlimited invoices
Free customer support
MYOB Essentials
with the Unlimited Payroll Package.
Keep on top of GST & BAS
Works on both MAC & PC
Free product updates
Unlimited payroll
Automatic bank reconciliation
Unlimited invoices
Free customer support
Reckon One (with Core, Invoices, BankData and Payroll modules) vs MYOB Essentials – Unlimited Payroll Package. Correct as at May 2018.
Better value as your business expands.
MYOB Essentials starts from $300 a year1
And if you manage payroll for more than 1 employee, MYOB Essentials jumps in price to $540 a year2. Ouch!
How Reckon One gives you great bang for your buck
1Annualised cost of MYOB Essentials Starter at $25/mth.
2Annualised cost of MYOB Essentials unlimited payroll plan at $45/mth.

"Reckon One is not only a pleasure to use, it is the best investment my small business has made thus far. Consistently saves me 10 hours per week in bookkeeping time."
— Ken Morrison, The Celtic Bakery
Simplified so it's easy to use.
We've removed all the unnecessary clutter in Reckon One so you can get on with running your business and not be distracted by the accounting.
If you need more power, simply add features as you need them and turn them off when they're no longer needed.
With MYOB Essentials, complicated features might be thrown at you, no matter how basic your accounting needs are.
Browse Reckon One screenshots

"Reckon One has been a complete game changer for my business"
— Stephanie Luck, Bookkeeper and Tax Agent
Get powerful user controls
Reckon One goes beyond the basic user controls found in MYOB Essentials. Our accounting software lets you assign user permissions for accessing specific types of data so you can run a safer, more accountable business.
What's more, you can set up unique user roles for each team member so they only see the functionality they need. This makes it even easier for your team to pick up and use Reckon One.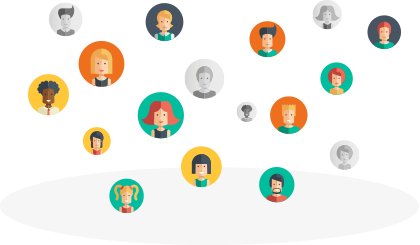 "The product is fantastic, very easy to use. The pricing is very competitive."
— Michelle Aliste, Clever Cloud Business Solutions
The best technology, safe and secure
Reckon One is built using the latest web technology – HTML5, and we host your data on Australian servers using Amazon Web Services – the world's leading authority on cloud data storage.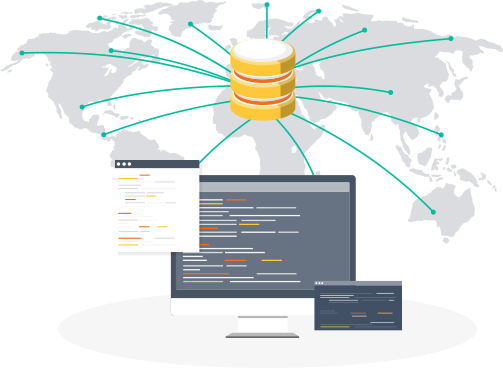 "Reckon is user friendly to people like me, a mechanic,
making my bookwork accountant-ready."
— Lyndal Roth
What more features do you need? Run a brilliant business with Reckon One
We'll supercharge your growing business with our impressive suit of powerful tools! Most businesses will thrive with Reckon One!
There are a million reasons to love Reckon One.

Cancel at any time
Switch us off whenever you want. Your data is saved for 7 years.

Automatic backups & updates
Your data is safe, and you're always on the latest, cutting-edge cloud accounting software.

Data stored in Australia
Store your sensitive accounting software data here at home, under Australian law.

Industry standard security
We use AES-256 bit encryption and multiple layers of firewalls to ensure your data is always protected.
How we protect your data >

Works on all devices
Our online accounting software runs on your PC, Mac, tablet or smartphone.
Reckon vs MYOB
Convinced by Reckon One?
Try Reckon One for free, cancel anytime.