Easy payroll software from just $12/month
Manage wages, leave, super and Single Touch Payroll for your employees.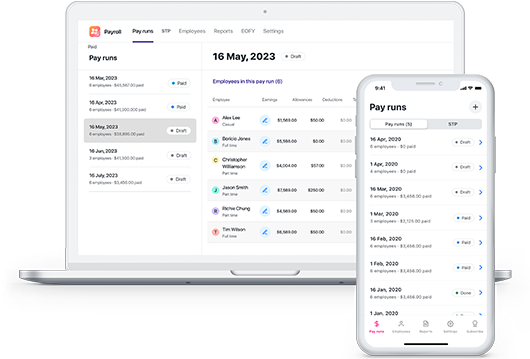 Payroll software with all the features you need
Payroll that's designed for small business
A modern design and clear workflows make managing pay runs, wages, leave, superannuation and Single Touch Payroll a breeze.
Simply enter your default settings, add employee details and hit pay!
Fair and affordable payroll software pricing
Easily manage wages, leave, super and STP for up to 4 employees from just $12/month. As your business grows our pricing scales fairly with your business size making it an affordable option for Aussie small businesses.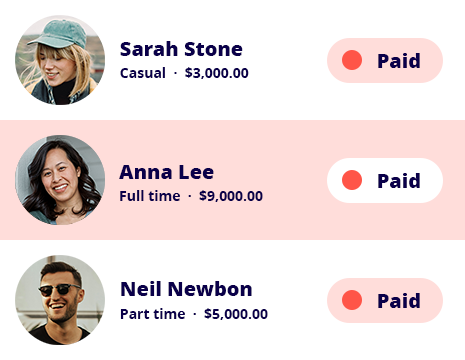 STP Phase 2 and ATO compliant
Process pay runs & send your STP reports directly to the ATO each payday in just a click. You can even keep track of ATO messages and access past submissions.
We've processed 500,000+ successful STP reports for our customers in 2023 alone!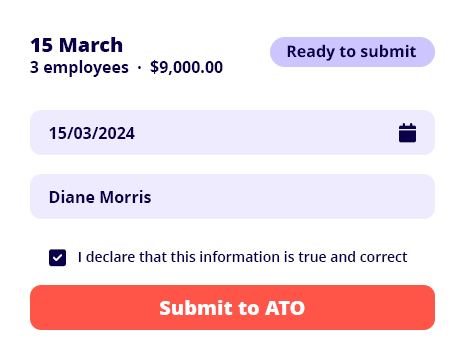 Stay up to date with payroll & tax regulations
It's simple to stay up to date with the latest payroll and tax compliance changes with updates such as PAYG tax tables, superannuation guarantee rates and SuperStream requirements automatically pushed into Reckon.
Leaving you more time to focus on running your business.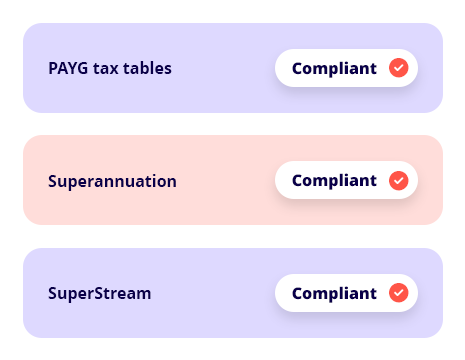 Aussie payroll software with local support
Our payroll software is designed and built for the Australian market with local support available when you need it.
Reckon is a proud Australian, publicly listed company with over 30 years of experience in the industry - so your payroll is in safe hands!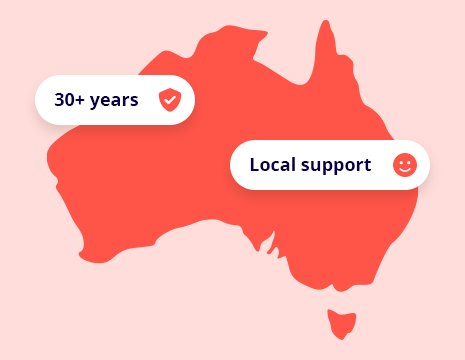 Plans that fit your business needs and your pocket
Grow your business with confidence with affordable pricing no matter what your business size.
*Offer only available to new Reckon customers and applies to the first Reckon One book only. The 50% off will be applied to your subscription for the first 3 months only. Once the promotional period ends, pricing reverts to the current RRP and is subject to change. The offer expires on 28/02/24 unless withdrawn earlier.
*Transactions that exceed the 1000 limit will be subject to the BankData Fair Use Policy.
*Free data migration offer includes 1 year of historical data + YDT only".
Helping thousands of businesses with their payroll
Cloud payroll that runs on web & mobile
Reckon Payroll can be accessed in the cloud from any device. Work from your desktop, laptop and even your smartphone with our free mobile companion app. Your payroll data syncs in real-time across all devices so you can work on the go.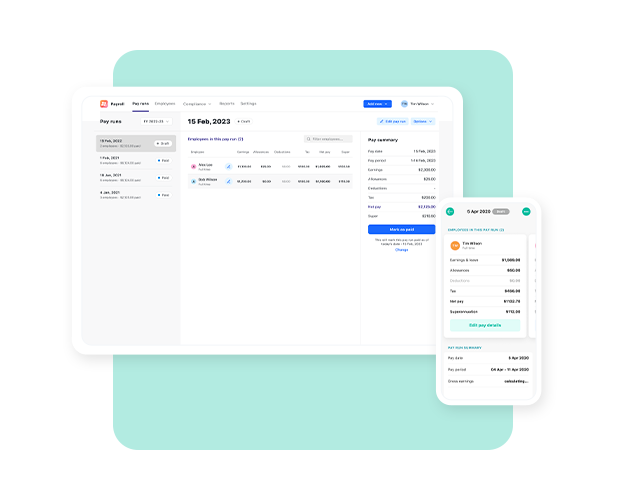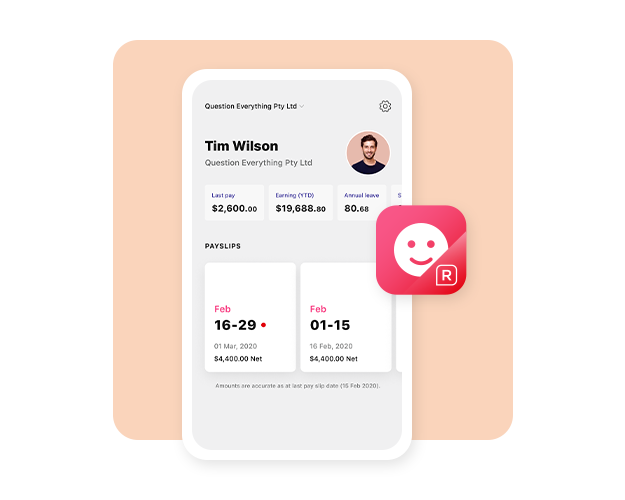 Employee self-service payroll app
Reduce payroll admin and save time with our employee-facing app, Reckon Mate. Invite your employees to download the app and they can check their payslips, leave balances, super, and more from their smartphones.
Frequently asked questions
How does the 30-day free trial work?
The Reckon One free trial allows you to try our accounting software for a period of 30 days to ensure it meets the needs of your business. After this period, your subscription will automatically convert to a paid one to avoid any interruptions to your data. However, if you find that Reckon One small business invoicing software is not suitable for your needs, you can cancel your subscription before the billing renewal date and your credit card won't be charged.
If life got in the way and you weren't able to use your trial, no worries! Just give our friendly support team a shout and we'll see if we can get you up and running again.
Do I need payroll software?
Managing employee payroll is a critical responsibility for any business and it's your legal obligation to pay them accurately and consistently.
Manually handling payroll can result in costly mistakes and legal issues which is why investing in payroll software can save you time, stress, and money, even for small businesses with a small number of employees.
Is there a minimum subscription period?
There are no minimum subscriptions and no locked-in contracts! You can enjoy the benefits of Reckon One with the flexibility of monthly payments and if you decide it's not the right fit for your business, you can easily cancel at any time.
How do I switch from another software to Reckon One?
Let us migrate your data for you!
We've partnered with MMC Convert to help you quickly and seamlessly move your data to Reckon for free*.
MMC Convert is a specialist conversion service that offers high-quality, secure data migrations. With over 45,000+ successful conversions and 10 years of experience,  the whole process is hassle free!
Simply sign up to a paid subscription, submit you migration request and your data will be migrated ready for you to review and receive in 3-5 business days.
What do I need to get set up with Reckon One?
There is no software installation required. All you need is a device with an internet connection to access your Reckon One account. Simply sign up for an account on our website and start using Reckon One to manage your business.
Is my data secure?
We use the best technology to ensure your data is safe and secure. Reckon One, is built with cutting-edge HTML5 technology and hosted on Australian servers powered by Amazon Web Services, a leader in cloud data storage.
Can I change my software plan later on?
Definitely! Reckon One offers you the flexibility to customise your plan to fit the unique needs of your business. Whether it's adding or removing features, or upgrading to a larger plan, you can easily make these changes right from your Reckon One account.
Do you provide customer support?
Can I grant access to other people?
Yes, you can share access to Reckon One with as many users as you need. And the best part is, you can do it regardless of which plan you're on. Simply invite users and assign the appropriate permissions, so they can help you manage your business.
Pay your employees today, for free
Start your 30-day free trial. Cancel Anytime!