Reckon One Invoice App
Reckon One invoicing software lets you send and manage invoices from anywhere. Perfect for small business.
An app with everything you need to manage invoicing on the go
The Reckon One mobile app with invoicing is perfect for small businesses and freelancers.

Anywhere, anytime app
Create and send an invoice, or add a client or record from anywhere on your mobile. Simple!

Accept online payments
Your customers can pay invoices quickly and securely with their credit card or PayPal account.

Invoice reporting
Track paid and unpaid invoices for a better understanding of your business cash flow.

Send unlimited invoices
Use the app to send as many invoices to clients and customers as you like. It's unlimited.

Save unlimited products
Create an unlimited number of products or services from your smartphone.

Customer database
Build a database with an unlimited number of contacts, and access it on your mobile when you need to send an invoice.

"I can invoice on the go…and it's 100% accurate."
Jason Chivers, Jaycee Plumbing & Gasfitting
An invoice app that helps you grow your business
Reduce paperwork and automate aspects of your invoicing, so you have more time to focus on your business.

Get paid faster
Make it easy for customers to pay you with online credit card payment straight from the invoice.

Manage cash flow
Know when an invoice is due, or gets paid, so you can stay on top of your cash flow.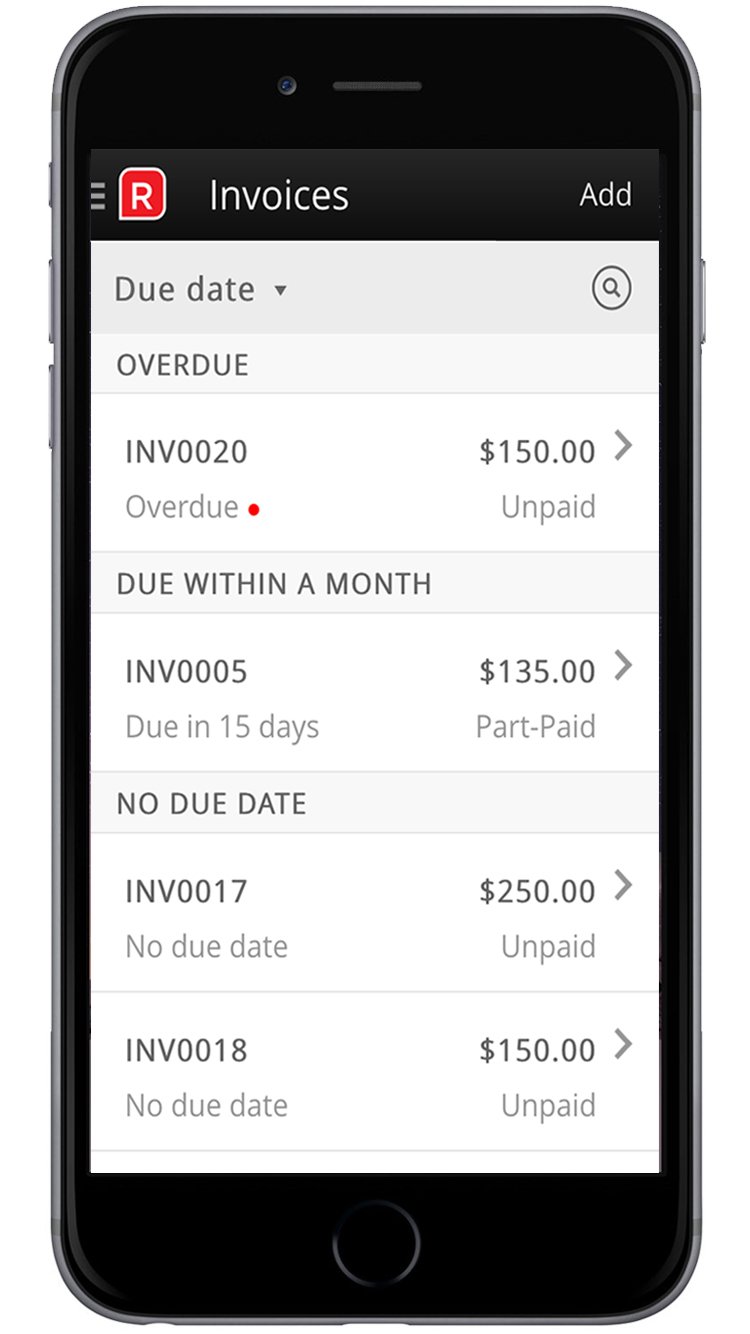 Know your customer
Build out and store customer details in the app and have their details handy.
To get started with the mobile invoice app, simply select the Invoices module in Reckon One. Once you've signed up, you can download the mobile invoice app for free on the Apple or Google Play store and start invoicing from your smartphone.

"I'm always travelling for work, so having cloud-based accounting software lets me access Reckon One anywhere"
Rhys Allan, Owner at Digital Done Printing
Your business performance at a glance
Your invoice payments flow seamlessly into your Reckon One account so you can gain quick insights from the dashboard, run detailed reports to see how your business is growing, and monitor and track expenses. Reckon One is also easy-to-use, accessible on your PC, laptop or tablet and will sync automatically no matter which device you use.

"With the Reckon One mobile app, I can issue invoices from my mobile while in the paddock – extremely convenient"
– Kylie Stretton, Northern Livestock Services
So many reasons to love the Reckon One Invoice App
Invoicing software that's simple & secure for small businesses – with free support when you need it.

Safe and secure
We use AES-256 bit encryption and multiple layers of firewalls. Your data is always protected.

Data stored in Australia
Store your sensitive payment & accounting data here at home, under Australian law.

Unlimited support
Reckon One comes with free 24/7 online support and unlimited weekday phone support.
Start invoicing today!
Sign up to Reckon One with invoicing and you'll be sending your first invoice in no time.
Try Reckon One for free