RECKON VS QUICKBOOKS
Looking for an Quickbooks
 

alternative?

Find out why Aussie small businesses are choosing to use Reckon One online accounting software.

 Or convert from Intuit QuickBooks Online for free
An easy accounting experience.
No distractions.
Unlike QuickBooks Online, Reckon One lets you pick and choose the tools you need so you don't become overwhelmed by unnecessary clutter.
Your accounting experience can be as simple or complex as you want to help you work more productively. It's the perfect QuickBooks alternative!
Browse Reckon One screenshots

"Easy to use, and can only get charged for what you use, at a reasonable price."
— Brenton Wilson, Wilson Autocare
Online accounting software that is nearly 50% less than QuickBooks Online.
Reckon One is premium, modern accounting software at a fairer price, making it the perfect QuickBooks alternative!
Rather than spending millions on big marketing campaigns, we invest in creating better software to make accounting faster, easier and more productive for you.
The savings we make are passed on to you.
In comparison to Intuit QuickBooks Online Self Employed at standard price. Data correct as at November 2016.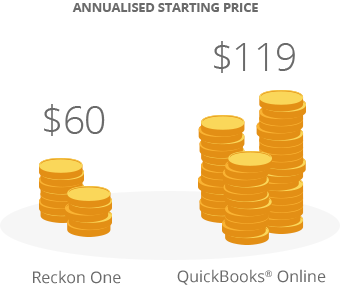 "Reckon One has been a complete game changer for my business"
— Stephanie Luck, Bookkeeper and Tax Agent
Better value as your business grows.
Intuit QuickBooks Online starts from $119 a year1
And if you want to add more than 5 users, the cost soars to $420! 2
…while Reckon One starts from just $5/mth
You can add as many users as you want and you'll still only pay $5/mth. This includes Single Touch Payroll and pay runs for unlimited employees!
Get great value with Reckon One
1Annualised cost of Intuit QuickBooks Online Self employed at standard price
2Annualised cost of Intuit QuickBooks Online Plus at standard price

"We used Excel spreadsheets previously. Reckon One has been a very cost effective alternative that provides more extensive and flexible reporting for the club."
— Ken Davies, Club Treasurer
Make smarter decisions with powerful projects & job management tools
Intuit QuickBooks Online doesn't have the equivalent job management functionality* that Reckon One does.
For a consultant, events planner, tradie, or anyone who handles multiple jobs and charges different rates to different customers; Reckon One will be a god-send for you!
You'll save hours of admin time, see who your most profitable clients are and make better strategic decisions.
*Reckon vs QuickBooks comparison (as of November 2016)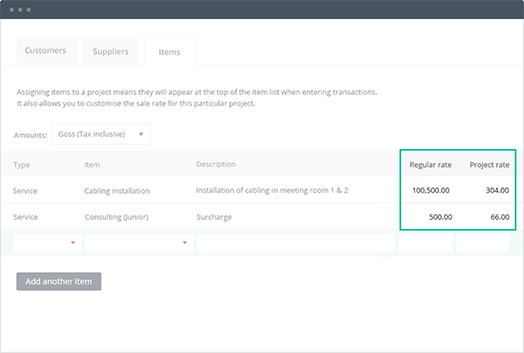 There are a million reasons to love Reckon One.

Cancel at any time
Switch us off whenever you want. Your data is saved for 7 years.

Automatic backups & updates
Your data is safe, and you're always on the latest, cutting-edge cloud accounting software.

Data stored in Australia
Store your sensitive accounting software data here at home, under Australian law.

Industry standard security
We use AES-256 bit encryption and multiple layers of firewalls to ensure your data is always protected.
How we protect your data >

Works on all devices
Our online accounting software runs on your PC, Mac, tablet or smartphone.

Brilliant service and peace of mind knowing someone can help you fix any issue you might have.
— Carla Biacchessi, Flori Grilli
RECKON VS QUICKBOOKS
Convinced by Reckon One?
Try Reckon One for free, cancel anytime.