RECKON ONE
Accounting software
perfect for UK small businesses
A better fit for your business, saving you time & reducing complexity.
30-day free trial. Cancel anytime. Unlimited users. MTD ready and HMRC compliant.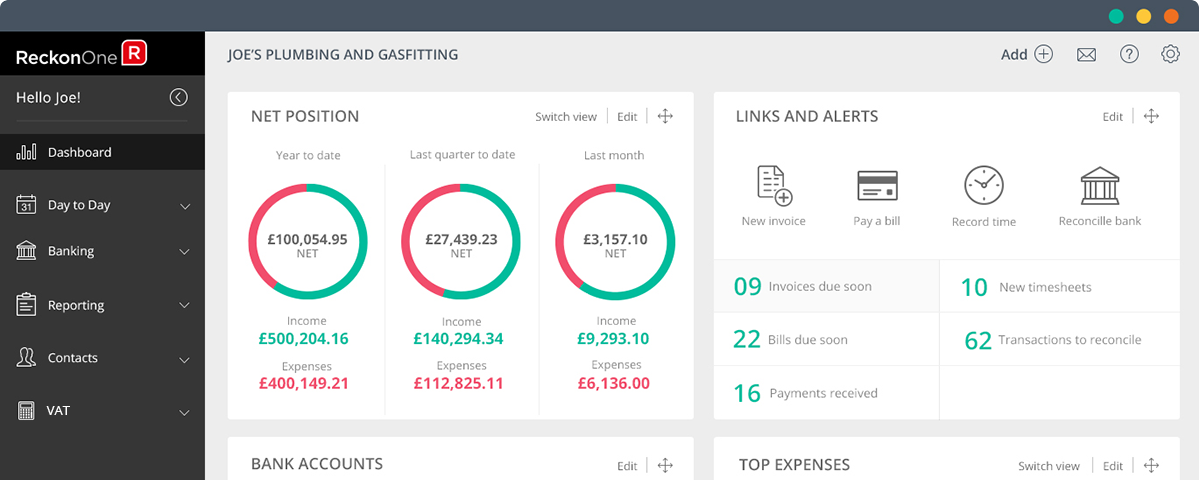 Easy & affordable accounting software with features to run every aspect of your business

The accounting software basics
Bookkeeping made easy. Get clarity on your small business's income and expenses by tracking your cash flow with real-time reporting, manage your VAT returns & manage your budgeting.

Create invoices and bills
Create and send professional invoices from our free mobile app. Use our templates and customise to suit your business.
Explore invoicing >

Reconcile bank transactions
Connect to your bank accounts so transactions flow automatically into Reckon One. Keeping track of the money coming in and out of your business has never been simpler.
Explore bank reconciliation >

Time tracking
Let your employees enter daily and weekly timesheets and mark time as billable so you can pass on the charges to your clients.
Explore track time >

Manage employee expenses
Employees can submit and attach receipts to expense claim items for reimbursement. Mark expenses as billable so you can pass on the charges to your clients.
Explore expenses >

Manage projects and jobs
Track the profitability of your business per job, category or client. Identify where your business is making money and make strategic decisions.
Explore job &  projects >
Choose a plan that suits your business
The Basics

For those just starting out

Mix and match!

Most popular!

Essentials

Scaling up your business

Mix and match!

Premium

Acing it with the whole package

Mix and match!
Do all the basics (Core)
Enter payments and expenses
Track and report VAT
See cash flow in real-time
Create budgets
20+ insightful reports
Share with accountant or bookkeeper
Create invoices and bills
Easily create,send and manage invoices and bills
Unlimited
Unlimited
Reconcile bank transactions
Automatically import bank transactions,then easily sort and reconcile
1000 Transactions*
1000 Transactions*
Track time
Create employee timesheets, bill time & generate pay runs from timesheet entries
Unlimited
Manage employee expenses
Track employee expenses and manage batch expense claims
Unlimited
Manage projects or jobs
Organise accounts into projects,charge different rates and track profitability of jobs
Unlimited
Invite unlimited team members
Free,regular feature updates
Making Tax Digital compliance
A smarter pricing system that starts from just £4/month
Reckon One is perfect for small businesses. Our cloud-based accounting software works on a modular pricing system, which gives you the flexibility to choose the features you need. Start with the accounting basics for £4/month, then select from 5 additional easy-to-use modules to create the perfect package for your business.

More affordable
We scale our pricing per feature, not on your volume of users, admins and customers. Perfect for small business owners to grow their business with confidence.

Fairer
We scale our pricing per feature not on volume e.g users, admins and customers. So you can grow your business with confidence.

Flexible
If you need to add or remove features, you can do so easily on a month-to-month basis because you're not locked into a contract. The perfect small business accounting software.
Plus, a range of benefits that are always included in Reckon One

Bank-level security
Your data is encrypted, and protected with bank-level security.

Automatic backups & updates
Your data is safe, and you're always on the latest, cutting-edge online accounting software with our automatic updates.

Cancel at any time
Switch us off whenever you want. Your data is saved for 7 years.

Works on all devices
Our online accounting software runs on your PC, Mac, tablet or smartphone.
Connect with an expert
Your accountant or bookkeeper can now help your small business in real-time.
Find one in the UK.

Free and unlimited users
Have as many users on Reckon One as you need, at no extra cost! Perfect for growing businesses
Be more productive with online accounting software

Work from the UK or anywhere
Bookkeeping without borders. Manage your finances anytime, anywhere and on any device. Share your files instantly with multiple users or your accountant or bookkeeper.

Business accounting software automatic updates
Accounting has never been easier. Automatic updates help you stay up to date with compliance updates and the latest Reckon One feature updates to make managing your finances easier.

Access real-time data
See your financial data in real-time, giving you an up-to-date and accurate view of your cash flow so you can make more informed business decisions.
Accounting software with a free mobile app
Run your business from the UK or anywhere with our mobile accounting app for iOS or Android.
Reckon One accounting software UK guide
Read the ultimate overview of Reckon One to discover why our online accounting software is for your business. Whether you're a sole trader, small business or start-up, Reckon One is the perfect small business accounting software for UK-based businesses.
Frequently asked questions
What are the benefits of online accounting software?
Mobility
An online accounting software like Reckon One gives you the flexibility and mobility to manage your finances from any device. Gain clarity over your business's financial position, automate your accounting processes, get paid faster and more.
The latest version
Reckon One is automatically updated in the cloud. So you'll always use the latest version without having to manually download compliance updates and features.
Cost-effective
Reckon One pricing works on a SaaS (software as service) pricing model.  So you pay a low monthly fee instead of larger upfront payment for your software licence. Paying month to month also means you aren't locked into a contract and can cancel anytime.
Security
Your data is safely stored in the cloud so you won't be affected by theft or accidents to physical hardware. All data servers have 24/7 security and several layers of encryption.
How does the pricing work for Reckon One?
Reckon One online accounting software is super affordable and starts from £4/month. Then only pay for the add-ons you need from £2/month including unlimited invoicing, automatic bank reconciliation, projects and more. It's also easy to set up and use. Check out our pricing >
Why is Reckon One accounting software perfect for small businesses?
It's common for businesses to go through peak and lull periods throughout the year. That's why it's important for business owners to have a flexible accounting software like Reckon One.
With Reckon One, you can customise the features to suit your business needs and only pay for what you need. Check out the features >
Is there a locked-in contract for Reckon One?
There is no locked-in contract for Reckon One online accounting software and you can cancel anytime.
Try free for 30 days
, then pay the lowest possible price.
Do you provide training or support on Reckon One?
What industries typically use Reckon One accounting software?
Reckon One online accounting software is used by any businesses where customers purchase products or services and the business takes payments.
Common industries that use Reckon One include:
Trades
Tradesmen love Reckon One online accounting software because it helps them track each job, manage estimates and stay on top of rigorous reporting. Typical businesses that use online accounting software include:
Plumbers
Carpenters
Mechanics
Electricians
The self-employed
The self-employed used Reckon One online accounting software to manage expenses, invoice clients and track payments. Typical self-employed businesses that use online accounting software include:
Photographers
Designers
Writers
Musicians
Services
This sector references any service that you receive rather than a good. These industries use online accounting software to keep track of their financial performance, track expenses, and more. Typical service businesses that use online accounting software include:
Hairdressers
Nail salons
Sporting clubs
Non-profits
Housekeeping
Event management services
Reckon One integrates with 1000+ business apps
Zapier is an online automation tool that allows you to connect Reckon One to a range of apps including inventory, eCommerce, CRM, project management and more. It reduces repetitive admin and streamlines your workflows – all without the need for coding.
Learn more