We've gone vertical!
We're excited to announce that Reckon One will undergo a major update soon, and will be sporting a slick new look and feel, including a vertical navigation menu.
Once you start using these changes we're sure you're going to be up for an Olympic gold in pure accounting software navigation and workflow speed.
So what should I expect?
This guide will helping you navigate these exciting changes. At a high level:
1. Vertical navigation: by moving our navigation from horizontal to vertical Reckon One is now even easier to navigate, with significantly less clicks needed to get to what you're after.
2. Real world language: some functions have been renamed to make Reckon One more intuitive. For instance Selling has been renamed Money In. A change we know will make many users very happy.
3. Perfect on any device: Reckon One will be able to adjust its layout in a fluid way to ensure more screen estate is used effectively, this will also greatly enhance the Reckon One experience on mobile devices.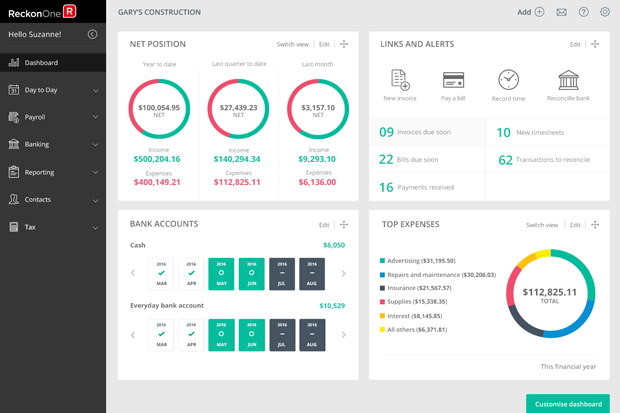 A closer look
Most of Reckon One's existing menu wording is exactly as it always was, only flipped vertically.
Let's zoom in on the new menu to see what has changed: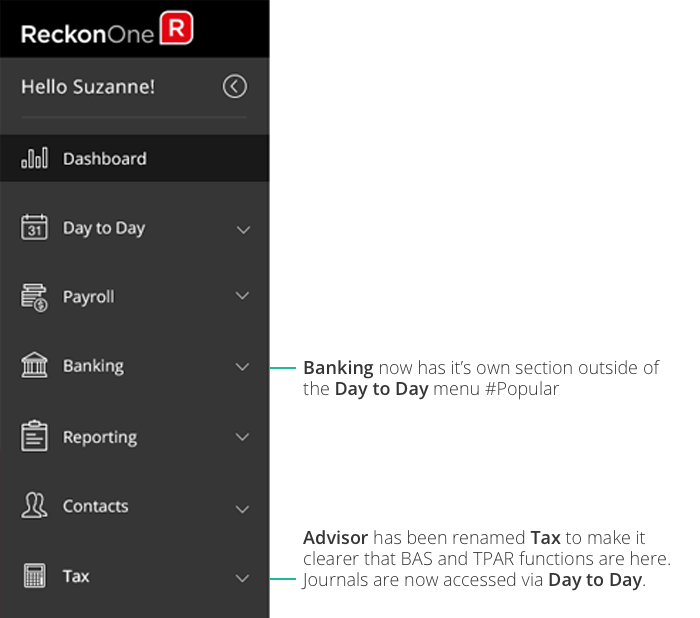 Beautiful expanding menus
Vertical navigation pages expand to reveal any sub-pages when clicked. Take Day to Day for example after it has been selected:
This change means that most areas of Reckon One are now only 2 clicks way! And is bound to save you a lot of time.
In the old menu structure if you wanted go to the Invoices page you would do the following:
– Click on Day to Day, click on Selling, wait for Estimates page to load, click on Invoices.
In the new system these are the steps instead:
– Click on Day to Day, click on Receive Money
In other words you won't be wearing out your mouse anytime soon 🙂 The advantages this new navigation structure bring are obvious and enormous.
Here is how the Contacts menu expands, allowing you to immediately navigate to your main Contacts dashboard, or directly to your Employees page equally as easily, and in as many clicks: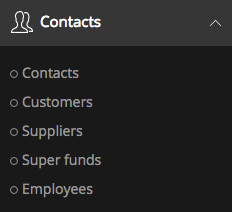 Banking is one of the most popular and well used parts of Reckon One. So we decided to give it its very own menu:
Payment summaries are now visible on your Payroll menu so you can dive into the details quickly: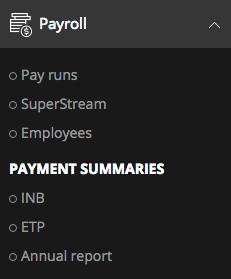 While with Reporting your favourite reports are always within reach. For example this particular user wanted to have their Estimate lists in a prime, clickable position: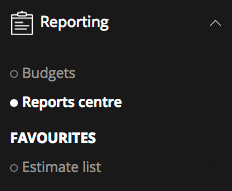 Follow the breadcrumbs
Understanding what section of the application you were in, and being able to surf up and down hierarchies was something we received a lot of feedback on too. As you can see in the Reporting screenshot above, the current page that you are on is highlighted in bold, with a white dot next to it.
Not only that, but breadcrumbs are now on all pages at the top left of each screen. This lets you quickly see where you are, and navigate back hierarchies easily, without having to revisit the main menu again.
For example, if you were on the Invoice editing screen, this will be clearly highlighted by the breadcrumb, and you can easily navigate back to the Invoices screen in one simple click.

Quick add menu
If all the other speed efficiencies mentioned already weren't enough, we're also supercharged our shortcut features, so you can skip the menu navigation we've spoken about above altogether and leap straight into the action: receive that money! Enter that timesheet! Pay that bill!
To achieve this the Add menu has been redesigned to be simpler and more intuitive. Creating a new invoice for example is as simple as clicking Add, then Invoice.

And you're done. Go home and make yourself a sandwich!
The Administration
We've worked hard, responding to your very useful feedback, to consolidate and simplify the administration and settings options in Reckon One.
In the new administration menu the old Users and roles, General settings and Payroll settings have all been merged just one Settings page: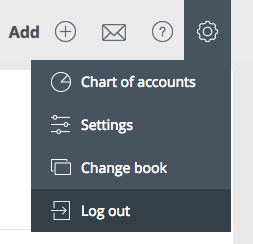 Decluttering and simplifying is our endless goal here at Reckon, and we think this change alone will make our navigation significantly clearer.
That's all folks!
Thank you again everyone, and we hope you enjoy these new changes to Reckon One!
We're exciting to see you start the new system, and to hear what you think. So please give us a shout out on one of our social pages and let us know!
And of course, if you have any further questions or need help for any reason please visit our 24 hour community support page.
See you soon!
– Team Reckon