Free tax invoice template for small business
Create a professional invoice in seconds with our our easy-to-use tax invoice template.
Create professional invoices in minutes
An invoice is a request for payment similar to a bill. It lists the products or services you've provided to your customer, and what they owe you in return. A tax invoice template has certain legal requirements for things like business name, payment terms and an invoice date. It's important to get invoicing right because it's how you get paid and maintain healthy cash flow.  If your business is built around providing goods & services chances are invoicing will be a huge part of your daily admin. Our invoice template below can save you time & money.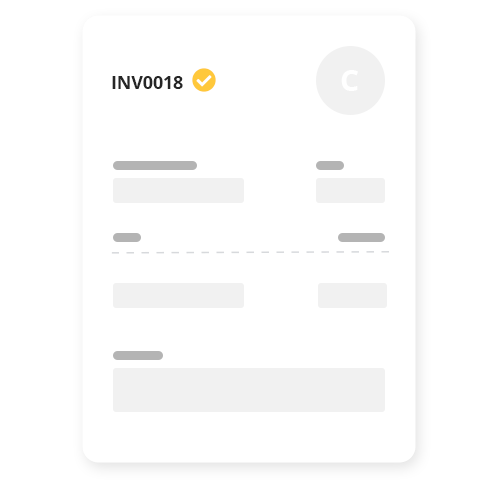 Why choose software over a tax invoice template?
Up your invoicing game with Reckon's unlimited invoicing software for just $12/month.
Should I customise my invoice template?
Using a standard layout that is familiar to the majority of your customers will help make it easier for your customers to pay you. However, that doesn't mean your invoices have to be boring. Add your business branding through the use of business logos, accent colours, font, personal messages or you can even add small advertising to your invoices to entice repeat business.
Why is invoicing important?
An invoice directly results in you getting paid, it will let the buyer know how much they have to pay, when the payment is due, and the ways in which they can pay. Invoicing is also extremely important for tax reasons and staying compliant with the IRD. When you run your own business, you are required to keep copies of your invoices to report how much you earned, if you're GST registered and how much tax you've collected.
Are invoices and tax invoices different?
There are 2 different types of invoices. which one you need to use is based on whether your business is registered for GST. Invoice – is for business NOT registered for GST. You will use regular invoices and don't include the words tax invoice. Tax invoice – is for businesses registered for goods and services tax (GST. You will use tax invoices and the must say 'tax invoice'.
How do I create an invoice?
Use our free tax invoice template! Simply add your business information and any other relevant information and you're ready to send the invoice to your customer! Then when your business starts growing with new customers and projects it may get to a point where it's more efficient to get online invoicing software. Check out Reckon's affordable range here.
What are some tips for invoicing?
Check formatting, spelling & grammar and ensure invoices are correct before sending. Unprofessional invoices can affect your brand image and even prevent you from getting paid!
Create an email address specifically for dealing with invoicing and accounting. For example, set up accounts@yourcompany.com and send all your invoices from that email. This will create a stronger impact on the buyer when they are asked to be pay.
Set crystal-clear terms on the invoice so that you get paid on time, and include late fees associated with late payments on the invoice.
Try Reckon Invoicing today!
Unlimited invoices. 30 days free. Cancel anytime