Single Touch Payroll
Ensure your business is compliant with the latest changes to payroll reporting and ready for the planned JobKeeper payment subsidy.
What is Single Touch Payroll?
Single Touch Payroll (STP) is  an ATO compliance regulation that requires employers to send employee payroll information including salary, wages, PAYG withholding and superannuation to the ATO at the same time as their standard pay run.
Single Touch Payroll is a significant change that will require many employers to upgrade or replace their payroll system this financial year in order to meet their payroll reporting obligations.
Transcript
Single Touch Payroll
Here is Tom. He is pretty chuffed with himself, aren't you Tom?
He is already getting his business set up for STP.
STP or single touch payroll, is a new reporting method of sending employee payroll information to the ATO.
Information such as salaries, wages, PAYG withholdings and superannuation will be reported directly to the ATO in the standard pay run, instead of at the end of financial year.
Reporting each pay run saves time and resources for businesses at the EOFY and gives employees easy access to up to date payment information through their MyGov account.
Isn't that right Tom.
On the 1st of April 2018, Tom is going to do a headcount of his employees.
If he has 20 or more, STP will be mandatory from 1st July 2018.
If he has 19 or less he can still use it and get a head start before it becomes mandatory on the 1st of July 2019.
Tom is counting down the hours until it starts, STP will save his business valuable time around the end of year without having to process all those employee, it's already done making it much easier.
His employees will also benefit from access to payment information on MyGov as well as pre filled tax return forms and online commencement forms that will make starting a new job easier.
As a result of these changes, Tom needs to pick an STP ready payroll software to remain complaint. He chose to use Reckon software.
Reckon is part of the Australian Business Software Industry Association (ABSIA) who are
working collaboratively with the ATO to help shape and influence the design and
implementation of STP.
All Reckon products with Payroll functionality will be STP enabled and ATO certified
including:
• Reckon One
• Reckon Accounts Hosted
• Reckon Accounts Desktop
• Payroll Premier
For more information go to reckon.com/stp and get your business ready for the future of payroll.
Just like Tom.
When did Single Touch Payroll start?
Phase 1:  Single Touch Payroll became mandatory on 1 July 2018 for all employers with 20 or more employees.
Phase 2: Single Touch Payroll become mandatory for ALL employers on 1 July 2019. With special rules for STP micro employers (1-4 employees) – see our micro STP solution >.
Note: Employers with only closely held employees or non-business employers, such as carers holding a Withholding Payer Number (WPN), don't need to start reporting for them until 1 July 2021. 
JobKeeper payments and Single Touch Payroll
Businesses heavily impacted by the COVID-19 pandemic will soon be able to access a temporary JobKeeper wage subsidy to assist in paying their employees. Using Single Touch Payroll will make signing up for JobKeeper a much simpler process as employers will have to report eligible employees monthly. If you think you will need to receive JobKeeper payments in the future and have not registered for STP, you should do so as soon as possible.

Start STP reporting
Start sending your payroll information to the ATO via your STP enabled solution.
Choose a payroll plan that suits your business
SINGLE TOUCH PAYROLL APP

Send STP reports to the ATO each pay run

RECKON ONE PAYROLL

Just need payroll?
This one is for you

RECKON
ONE

Manage payroll and accounting all in one
Number of employees
1 – 4 employees
Unlimited
Unlimited
Single Touch Payroll compliant
Track leave and allowances
All the accounting basics
Enter payments and expenses
Track and report GST for BAS
See cash flow in real-time
Created Budgets
20+ insightful reports
Free, regular feature updates
Data stored in AWS secure servers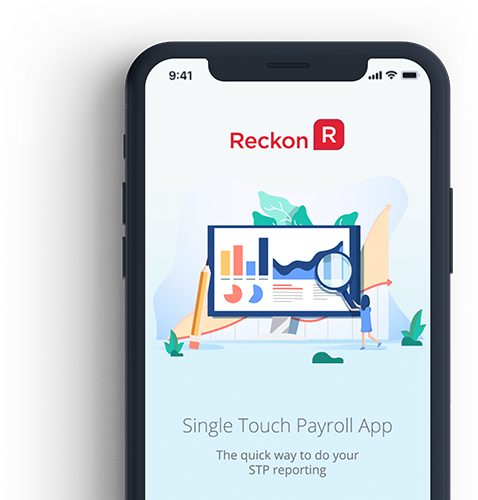 STP ready & ATO compliant
If you need to get STP sorted - now is the time to act! We've got a solution to suit every type of business. From a free mobile app to submit your employee's payroll info to the ATO to a comprehensive payroll solution for unlimited employees – we make STP compliance easy!
What's the difference?
Traditionally employers lodged their payroll information via paper or manual submission once a year to the ATO by the 14 July deadline.
Under STP, employers send payroll information to the ATO at the same time as they pay their employees typically weekly, fortnightly or monthly via their payroll software. This means pay runs and payroll compliance are combined into one process. To enable this direct submission to the ATO the payroll component of your accounting software needs to be updated.
Let your employees know what's changing with our STP Employee fact sheet.
Single Touch Payroll Guide
Our comprehensive Single Touch Payroll guide contains key dates, FAQs and more information on how to prepare your business for STP.
What are the benefits of moving to STP?
Employers
PAYG payroll reporting (your STP report) is combined with your pay run process. You send this information to the ATO every payroll event instead of once a year in July, helping you gain valuable time around end of financial year.
The ATO pre-fills PAYG withholding payroll fields W1 & W2 in your BAS, eliminating potential errors and double handling.
You are no longer required to generate and distribute payment summaries to employees as this information is available online via a myGov account.
On-board new employees quickly with online commencement forms including Tax File Number Declaration and SuperChoice.
Employees
Real-time access to year-to-date payments and contributions via MyGov including superannuation, income and tax.
Your payroll information is pre-filled in your tax return, making it easier and quicker to complete as you won't need to wait for a payment summary from your employer. They report it during the year via their STP reports.
Electronic commencement forms including a pre-filled Tax File Number Declaration and SuperChoice form makes starting a new job easier.
Single Touch Payroll Checklist
Understanding how this new requirement applies to your business will help you transition smoothly to Single Touch Payroll Reporting before the start date. We've created a checklist with some important questions to consider to help you get prepared for STP.
Reckon is supporting STP
Reckon is STP-ready and ATO compliant for the following products:
Reckon Accounts (latest version only)
Payroll Premier (latest version only)
Our new application GovConnect STP makes meeting your STP requirements quick and easy. GovConnect STP acts a gateway to the ATO enabling you to view and lodge your STP reporting no matter what Reckon product you use.
Existing customer? Enable your product for STP now!
We've created a Single Touch payroll customer hub to help current Reckon customers stay STP compliant. Simply click on your product for specific help guides, how to create a GovConnect account and a list of frequently asked questions.

Looks like you're using a desktop computer! To download the app, open this page on your mobile and follow the direct links. Or type 'Reckon' into the Apple or Google Play Store and follow the prompts!