Guest post by Kate Parish
If your online business is looking for a better way to sell to mobile device users, we're going to break down the primary choice you'll face: mobile website or app?
Mobile devices have transformed from a means of browsing websites (only to then complete an order from desktop computers) to something truly remarkable. Now, people utilise them instead of computers. Plus, the number of smartphones is expected to grow to 18.22 billion by 2025. This means every person in the world will have at least two mobile devices. Those are jaw-dropping stats, aren't they?
This prevalence spurred online business owners to wonder how they can win over this share of the audience. Contributing almost half of all website traffic, smartphone users needed a convenient solution. Enter mobile-friendly websites and native apps.
Both options have their strengths and weaknesses. If you need to choose one over the other, we're here to explain the difference between a mobile website vs. an app and what you should develop in the first place. So, keep reading to make an informed decision and improve your mobile user experience.
Mobile websites: the way to connect with your audience
If you're venturing into the digital realm for your business or are already there but wondering where to focus your energies, we're here to help. Let's first explore the world of mobile websites and their pivotal role in connecting with audiences.
What is a mobile website?
In simple terms, a mobile website is a version of your regular website, tailored to fit conveniently on smaller screens like phones or tablets. Think of it as a neat and tidy version of your desktop site, designed to be user-friendly and easily navigable on the go.
In our ever-evolving digital landscape, where clients are practically glued to their smartphones, having a mobile-responsive website isn't just a nice-to-have—it's a must-have.
Advantages of mobile websites
If you're an active online user, you may already know the answer to why any business should be makingmobile-friendly websites. So, let's summarise the benefits of providing an impeccable mobile experience from browsers:
Accessibility
With a mobile website, your business is quite literally in your customer's pocket. Regardless of where they are—at the local cafe, waiting for a friend, or in between meetings—they can easily pop over to your site for a quick browse or purchase.
Lower costs
Creating a mobile website typically costs much less than creating a dedicated app. Why? Websites, especially those following a mobile-first approach, utilise a single framework. They're adaptable across various devices, so you don't have to develop a separate version for each.
Apps, in turn, often require separate developments for different platforms like iOS and Android. The costs add up.
Additionally, having a website is essential for search engine visibility. So, you'll likely invest in a website from the get-go anyway.
By focusing on website performance optimisation, a mobile-first approach, and adaptive design  during the development process, you can build a functional website for mobile users without the added costs of creating an app. For many small and medium enterprises where every dollar counts, this is a major win.
Easy to update
Need to change a product detail, add a new blog post, or renew your pricing? With a mobile website, presenting the latest version of the page is often not a big deal. Users do not need to download updates—your site always shows the freshest info.
SEO benefits
Mobile websites give your business an SEO (search engine optimisation) edge. Google loves mobile-friendly sites and often prioritises them in search results. That means more visibility and potentially more customers for you. Plus, you can also take advantage of programmatic SEO and use automated tools to generate content and pages to satisfy your audience and achieve consistent growth in ranking performance.
When should you opt for a mobile website?
A highly-optimised mobile website may be all you need, especially if:
You're tight on a budget and starting out. In this case, a mobile website offers a cost-effective solution to connect with your audience.
You don't need complex solutions and access to device hardware. A mobile website will suffice if your business doesn't require people to utilise features like the camera, GPS, etc.. It allows you to showcase products, share contact info, and run a blog without any fuss.
You have strict requirements for speedy updates. Businesses, especially in the B2B and B2C space, often have rapidly changing info. A mobile website allows for swift changes without troubling the end user with app updates.
Mobile apps: boosting user engagement
Now, let's delve into the realm of mobile apps and shed some light on when they might be the right fit for your business.
What is a mobile app?
In a nutshell, a mobile app is a piece of software tailored for mobile devices(smartphones and tablets). While users favour mobile websites for quick access to information, mobile apps win the "mobile app vs. mobile website" battle in terms of customisation, convenience of navigation, and personalisation. It aims to offer a richer user experience, making interactions smoother and more intuitive.
Advantages of mobile apps
As mentioned above, native apps are more demanding regarding development costs. Still, they can take your online presence to the next level with the following benefits:
Personalisation
Mobile apps can remember user preferences, giving customers a personalised experience every time. This isn't just about knowing their favourite colour but tailoring content, product recommendations, and appealingto each individual's taste.
Advanced features
Compared to mobile websites, apps can leverage the native features of a device. Do you want users to snap a photo and upload it directly to your platform? Or how about accessing their location for tailored deals? Mobile apps can support all of these.
Push notifications
Push notifications are among the most effective ways to draw people to your business. They act as little reminders, displaying offers or updates on clients' mobile screens, even when they're not actively using the app. It's like waving at them and saying, "Hey, remember us?"
Offline capabilities
One of the standout benefits of a mobile app vs. a mobile website is its ability to function offline. Regardless  potential connectivity issues, prospects can still access parts of your app.
When an app makes sense
Mobile apps aren't for everyone, but you should consider building a mobile app vs. mobile website in certain scenarios:
User retention and engagement play a crucial role in your marketing strategy.
If you're looking to keep your users coming back for more, push notifications from native apps can be a fantastic tool. Plus, their presence on a user's device serves as a constant reminder of your brand.
You have high expectations in terms of functionality.
From a device's camera, GPS, and other native features, apps are handy and stable.
The business entails coming back to your brand several times a week or a month.
Take online stores as an example. Shoppers may buy a pair of jeans and won't need to visit the store for several months.
As native apps are heavy, storing an unneeded one will take up precious megabytes of memory. The user will delete it once the phone displays the "Not enough space" alert. However, a mobile app can streamline this process for businesses where users need to access services or information frequently (banking, news, grocery stores).
Mobile app vs. mobile website: the showdown
To help you make a decision between a mobile app vs. a mobile website, let's present their differences in the form of a table.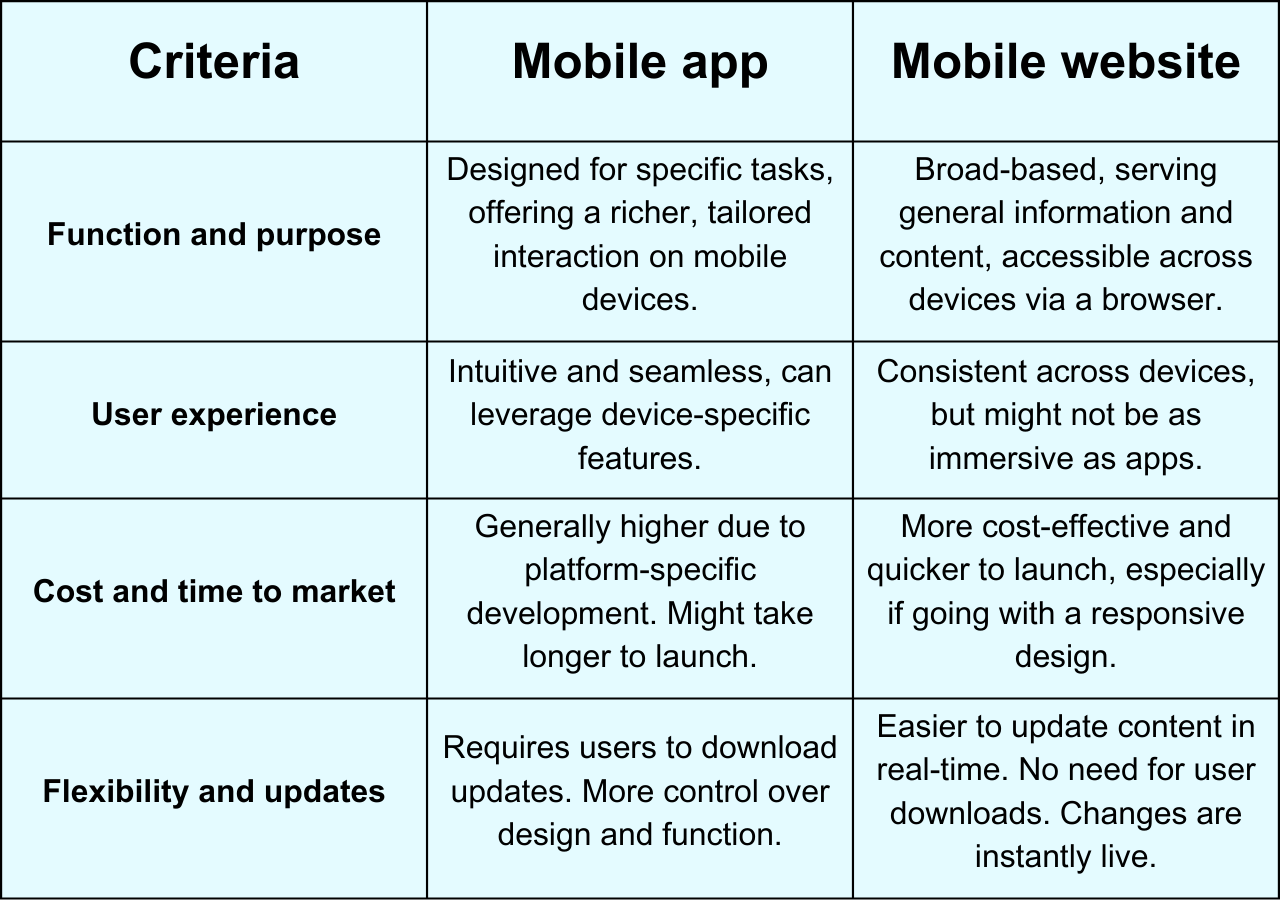 Mobile app and mobile website coexistence
Throughout this article, we've been trying to answer the question, should you opt for a mobile app or website? The thing is, one doesn't exclude the other. Why not leverage the strengths of both?
Imagine this: You run a bustling online store. Your mobile website attracts potential customers browsing on the go, drawing them in with its seamless design and easy-to-navigate layout. They might make a purchase, sign up for your newsletter, or simply window-shop, saving items for later.
Now, consider your regulars. They adore your products and return time and time again. For them, downloading your app makes sense. It provides a richer, personalised experience, with features like instant notifications about sales or new stock and the ability to quickly reorder favourites.
Here, the mobile website acts as a magnet for new customers. The mobile app, meanwhile, serves to deepen the relationship, fostering loyalty and frequent interaction.
So, what's the verdict? The choice depends on your needs
Let's dissect specific needs and cases where the winner between a mobile app vs. a mobile website becomes more evident.
Mobile websites are a fantastic entry point and essential for search visibility. However, mobile apps can amplify user engagement. If you're in two minds, it's worth consulting digital experts to determine what's best for your business. After all, making the right call in this digital age can set you up for rapid growth.
And if you have enough resources, you can develop both the app and mobile optimised website. It doesn't mean doubling up on work. It'll let you strategically use each platform's strengths to push your business forward. They both have different roles, but together, they're invincible.
About the author
Kate Parish is the chief marketing officer at Onilab, a full-service eCommerce agency with a focus on Magento. Kate has been working on diverse marketing strategies and activities for more than 8 years. In her pursuit to bring up top-notch marketing solutions, Kate is constantly exploring the topics of SEO, branding, SMM, PPC, and Magento PWA development.