We talk a lot about startups, young entrepreneurs and commercially successful businesses. While this is great, we completely overlook social entrepreneurs that aren't here for the Forbes 500. They are not just interested in monetary investments and product creation, they are interested in positive social engineering. These are the NGO operators and community minded leaders who strive to solve social issues and inequality.
1) Alex Honnold: The Honnold Foundation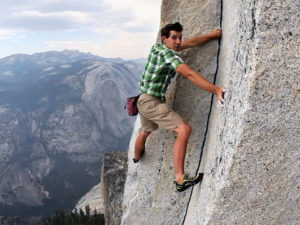 Alex has made his most indelible mark as perhaps the world's greatest free solo rock climber, clocking ropeless ascents of some of the hardest and most intimidating rock faces on planet earth. In this manner he is without peer. Part and parcel to being a professional climber, Honnold travels the globe and his home country of the US in a van, living simply and in sync with his environment by creating the least amount of waste possible and leaving the smallest footprint he can.
In keeping with this ethic, Honold funnels a vast bulk of his earnings into his NGO – the Honnold Foundation. The foundation focuses on reducing inequality by installing solar lighting through projects in villages from Ethiopia and wider Africa to native Indian Reservations such as the Navajo. Poisoning from indoor kerosene lamps and solid fuels is a major problem the world over, killing hundreds of thousands of people each year through indoor pollution. Furthermore, he found in Africa that up to 25% of a families income is spent on kerosene for this purpose alone. Honnold hopes to start alleviating this inequality by making solar available to the word's neediest.
"The Honnold Foundation envisions a world where all people have equal access to opportunity and live in balance with the environment. We believe in solar as a proven, environmentally sound solution to global energy poverty, and we award grants to bold and ethical organisations driving innovation in the solar industry."
2) Jacquie Berglund: FINNEGANS
"Turning beer into food". What a radical concept. Jacquie Berglund, CEO and co-founder of FINNEGANS is on a mission to utilise her brewery to fill the tables and pantries of those in need.
How is she doing this? Coming from a childhood of poverty, Jacquie has always had a tight focus on the food needs of the impoverished and a desire to forge a world better than the one she grew up in. To do this she recruited her own brewery. Through her beer company, FINNEGANS, she donates 100% of the profits from beer sales into their sister NGO, FINNEGANS Community Fund.
The fund buys food from local producers and stocks pantries for the poor throughout the area in which the food was grown. Further than this she has pioneered, and shared freely, the concept of a Reverse Food Truck. Instead of distributing food, they collect food and canned goods from neighbourhoods to be funneled into the mouths of the hungry.
"We believe in 'Barstool Philanthropy'. In social innovation building strong communities. And that doing good and having fun play nicely together. We believe in the sweet alchemy of turning beer into food. In lining food shelves with fresh produce from local growers. And that it takes a village to raise a more purposeful pint."
3) Alec Drummond and Jonathan Cedar: BioLite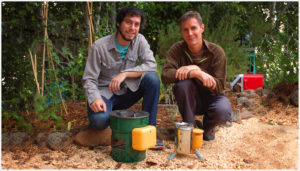 The goal: turn fire into electricity. Consider the following statistics:
3 billion people worldwide use open fires as a primary cooking source.
1 billion tons of carbon dioxide is emitted annually into the atmosphere from open fires.
Add to this the problems in third world countries when it comes to electricity, engineers Alec and Jonathan (both avid campers) created a range of wood based cooking stoves under the name BioLite that appeal to the off-grid enthusiast as well as forming a global mission to combat air pollution as on top of energy concerns.
The extremely efficient BioLite stove ingeniously turns the heat from cooking into electricity. The electricity is used to power an integrated fan to oxygenate the furnace, which means the stove uses half the wood normally used by open fires and reduces smoke by 90%. The extra electricity can be used to power mobile phones and LED lights, or be stored in a battery for later use. Such open fire smoke accounts for 4 million deaths per year, as well as pumping out 25% of the world's black carbon emissions (more than all the world's cars and trucks combined).
They aim to alleviate not only excess pollution, wood use and combat a stark death rate but also to provide power to off the grid communities.
"BioLite is on a mission to bring Energy Everywhere™ with revolutionary products that transform the way we Cook, Charge and Light our lives off the grid."