THE ROAD TO RESILIENCE

Ryan Deale, Founder of Get First Aid
4 min read

There's a light at the end of this, as much as it's hard to batten down.
Ryan Deale, Founder of Get First Aid
When your job is to lead a team of first responders and paramedics at events across Australia, you need a fair bit of resilience – and plenty of empathy. After losing 18 events in 24 hours, Ryan had plenty of reasons to despair. But he's taking this challenging period in his stride. Ryan Deale of Get First Aid in Binalong, NSW spoke to us about growing a successful, community-centric business, upskilling staff during COVID-19 and why he's so proud of his passionate team.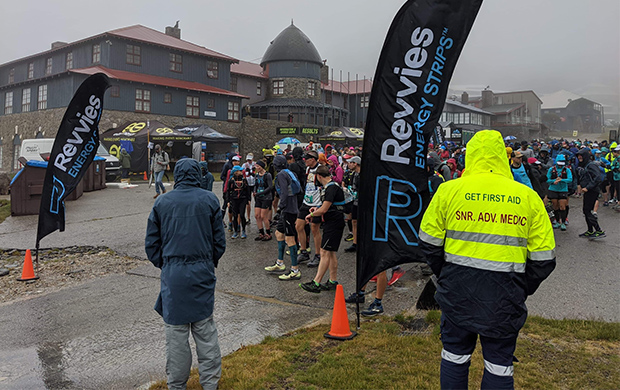 Get First Aid is an event medical and first aid training organisation. We attend events across New South Wales and ACT, providing first aid or medical services to support the local community. It could be a pop up tent at a music festival, a local school fete or a triathlon.
What makes us different to a lot of other organisations out there is we provide a service level guarantee. When we say we're going to be there, we actually commit to it. We also offer post-event reporting free of charge. We want to be able to deliver great service to our clients, but also something they could go to council or NSW health with and say, "This is what we've implemented and this is why."
The soul of the business is to give back to the community. My staff are absolutely fantastic at what they do. They're reliable, passionate and empathetic, which are such essential attributes because we're delivering an important service. Being able to help somebody who is vulnerable and has put their trust in you – that's amazing.
"COVID-19 is probably the biggest challenge for any business. For us, everything has stopped. We can't deliver training because of the safety for our students, and the event space has stopped because of the capacity restrictions."
We had around 18 events on the calendar before the shutdown and within 24 hours, all 18 events got canceled.
Our first concern was how we're going to support our employees. We contacted every one of them and told them that they still have a job. We're in the process of reviewing the JobKeeper payment, and we're going to try our very best to push through this tough period of time.
We then spoke to our clients and told them that we would honour any deposits they made and put it onto the next event or give them a refund, so it didn't impact their business as well. It's about doing that fair trading and ensuring we're looking after each other, not just ourselves.
We've still been selling our first aid kits and we're in talks with a few other organisations in relation to how we would deliver first aid training. We're also taking the opportunity to develop further training for our staff.
We don't hide anything from our staff. If they want to know what's going on, they know what's going on. We do weekly Zoom calls and give them the opportunity to ask us questions.
I've spoken to so many small business owners and it's been very unfortunate for some of them, but this is a tunnel and there's a light at the end of it. It's all about looking at that final goal of why we're actually here.
For me, resilience is about managing what's in front of you and knowing that eventually something like this can actually create something beautiful. I'm staying positive because I'm lucky enough to have a support network around me. I have my wonderful wife who takes on a lot of the pressure. Knowing that someone is there to support us is one of the big things, especially in the medical field.
I think it's important to know your business. Know that if you have been around for a while and you've seen success, that success isn't going to go anywhere. The success is currently on hold. And know what makes you strong as a business.
I think that's what makes a successful business. It's knowing when it's the right time to take the leap into the river and when it's the right time to take a bit of a step back.
Reckon software has taught me what my financial responsibilities are as a business owner. It's made it very easy for us.
I'm not a very big spreadsheet person. Give me a spreadsheet, I'm going to break it. I guarantee it! Reckon One has been amazing for me because it's that aspect of going from small to a medium-scale business.
The Single Touch Payroll reporting which is delivered to the tax office is just great. It's taken a big weight off my shoulders as health compliance is massive for us. We need to have processes, systems and policies to ensure we're doing the right thing.
I think it's so important to take a breath – everything will be okay. Don't let the short term affect how you're looking at the long term. If you need help and support, know that you have other small businesses around to help you.
Find out more about Reckon One software here.
Accounting software that works as hard as you do

Take the hassle out of your everyday accounting, payroll and compliance needs through affordable, easy to use solutions.