THE ROAD TO RESILIENCE

Angela Bichler, founder of Sydney West Business Services

4 min read

For me, resilience means getting through adversity. It means changing plans, changing tactics and coming out the other side smarter, wiser and stronger.
Angela Bichler – Founder, Sydney West Business Services
I live on a hobby farm on the outskirts of Sydney, in a semi-rural region called the Hawkesbury, which has lots of agri-businesses and tradespeople. We've got a fair few acres with cattle and sheep, but we've only lived here for three years and, in that time, we've seen fires, drought, floods and now COVID-19.
The people in the Hawkesbury are a breed of their own – in a nice way! The locals are very stoic and very resilient. In terms of overcoming adversity, they're really good at knuckling down, seeing things through and carrying on – they're very adaptable out here.
I started my accounting practice Sydney West Business Services 10 years ago in the neighbouring Hills District, but I took the business with me when we re-located to North Richmond. I'm a Chartered Accountant and I love what I do. It might sound silly, but accounting isn't boring. I like working with different people and helping them achieve their goals.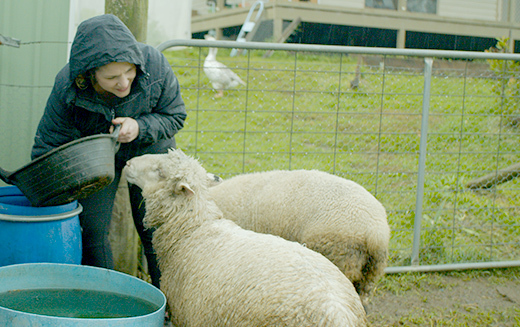 Yes, you help clients with the numbers and tax, but there's so much more to running a business than just accounting. There's a lot of layers to an advisory role like marketing, strategy, direction, and succession planning.
In the Hawkesbury, my client base ranges from tradespeople, to professionals, physiotherapists and other health areas. I still have clients from the Hills District and even some who are interstate or overseas. It varies now with online accounting because it allows you to collaborate with clients from anywhere.
I've seen my clients buy their first house, buy their first car, get married and have children. It's a humbling experience to have them come back and say, "I'm really glad that we followed that plan and got to where we are."
To have nurtured someone to that stage where they bring home the right income for their family to be happy with, and they're organised and have peace of mind that their business is doing well – it makes you feel good about yourself. There's been clients who I've helped them get over their fears and see them grow and prosper. When you become a trusted advisor, you become a client's friend as well. They're not just a client or a number.
There's one client who springs to mind, he's a tradesman who does maintenance and ad hoc building works. For years he bobbed along in the water and I actually had to have a hard conversation with him and say, "You're not really going anywhere. Let's make a strategy to get your business to the next level."
I spent time with him getting his accounting and record keeping right. We then followed through on our plan, did some marketing and he's actually employed two people since then. That's a very proud moment for me.
"In these uncertain times, it's even more important to have a trusted advisor. Sometimes clients feel like they can't afford an accountant or bookkeeper… but they're someone you can trust and depend on at any point in your life to help you learn, grow and be resilient."
For me, resilience means getting through adversity. It means changing plans, changing tactics and coming out the other side smarter, wiser and stronger. It means learning from that experience and making sure that next time you're well equipped to tackle the same problem the following year. It builds strength to be able to see a light at the end of a tunnel, rather than giving up.
It's even more important for a business owner or self-employed person to be resilient in the respect that they don't get a pay cheque each week. There's a lot of uncertainty around pay and sales. A business owner needs to be able to ride those ups and downs and come out the other side still in business.
I don't think you're born resilient, either. The way I teach my clients to become resilient is to calm them down, guide them to be logical and help them plan strategies to overcome their issues.
Tough times don't last, but tough people do – the more challenges you have, the better you become at overcoming new ones.
Because of COVID-19, there's so many clients out there who are really worried, especially in the industries most effected like hospitality and gyms. They're struggling. That's where I've tried to help them speak to landlords and banks, prepare documentation, get the right government assistance or grants and JobKeeper, and write letters of support of the applicants.
Accounting software is something that is often missing from my clients. A lot of tradies come to me when they first start and they bring me a large envelope or a shoe box, which do still exist every now and then.
But we quickly turned that shoe box into a software package and got them automated. We'll do the backend, the bookkeeping, and all they have to do is sell. The accounting software makes sure all the record keeping requirements are met and they're able to manage cash flow accordingly.
Reckon One is our go-to product for a new business and getting them started on the right software, right from the beginning. Reckon One allows us to see income and expenses, see what invoices are coming in and what payments are going out. With all that information, we're able to predict the cash flow requirements of the business and plan appropriately.
Without good cash flow, a business will fail to thrive. It won't be able to buy the capital assets it needs and won't withstand low sales and those little bumps. Having good cash flow allows a business to be more resilient.
All businesses should get advice and form a plan, follow it, then get the right software and learn from mistakes. That's how people and businesses become and stay resilient.
Find out more about Reckon One software here.
Accounting software that works as hard as you do

Take the hassle out of your everyday accounting, payroll and compliance needs through affordable, easy to use solutions.