RECKON POINT OF SALE
Point of Sale Professional
Advanced features to help you manage sales, inventory, customers and accounting.
Point of Sale Professional has advanced functionality that allows you to set up promotions, create customer loyalty programs and manage tables and kitchen order printing for restaurants and cafes making it ideal for retail and hospitality. With comprehensive integration to Reckon Accounts accounting software, it offers features to process sales quickly and efficiently, manage inventory, customers and accounting.
| Features | |
| --- | --- |
| Automatic error detection for end-of-day transfer to Reckon Accounts | • |
| Set layby sales and refunds to 'pending' in Reckon Accounts | • |
| 24/7 online registration of POS terminal | • |
| Compliant with the National Measurement Institute | • |
| Back office management | • |
| Multi-layer customisable on-screen touch keyboard | • |
| Label printing software | • |
| Stock management | • |
| Transactions on hold | • |
| Lay-by management | • |
| Transaction history for printing receipts | • |
| Training mode | • |
| User and role-based security features | • |
| Integrated EFTPOS and PayWave/PayPass | • |
| Table Manager and kitchen printing | • |
| Currency conversion | • |
| Enhanced customer loyalty programs | • |
| Promotions | • |
| Unlimited barcodes per item | • |
| Appointment Manager | • |
| Automatic database backup | • |
| Split bills | • |
Pricing
Point of Sale Professional 2019
Process sales and run store operations
Process sales quickly and efficiently, giving your staff more time to spend with your customers. Set up your POS system with touch buttons, colour scheme and select screen size to make processing transactions quick and easy whilst minimising errors. You can also create and assign barcodes to save time at the check-out, improve customer service and accurately process transactions.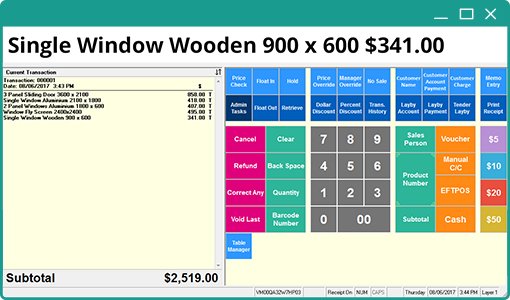 "Reckon is the best accounting programme I have used, and your support is 10 out of 10. I have been a bookkeeper for 30+ years."
— Barbara Brabiner, Whale Cove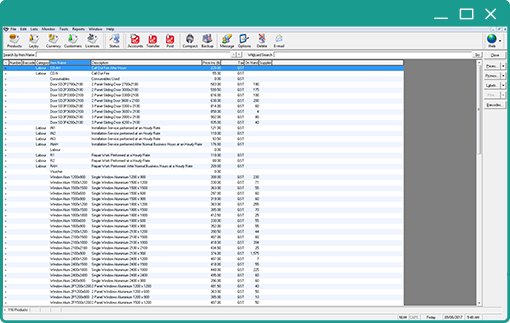 Customer and stock management
Manage customer accounts and lay-bys. Build up a customer database with a full history of their transactions. Easily see what they like, what they buy and when they buy it. POS integration with Accounts also lets you record, track and reconcile everything you buy and sell.  Identify what items make you the most money and which items don't. Quickly view your stock levels and even see what's on order and when you can expect it.

"Reckon POS offers great flexibility and options, with features that not only save time but reduce the chance of error"
— Robyn Ricket, AST Consultants
Table Manager and kitchen order printing
Designed for managing tables in restaurants and cafes Table Manager can help with tracking statuses like reserved, served, paid bill. When combined with Kitchen Order Printing you can acheive increased capacity for customer orders and improved efficiency. The Table Manager feature can also be utilised to track the status of hire cars, mechanic repair bays and other businesses where multiple stages are tracked.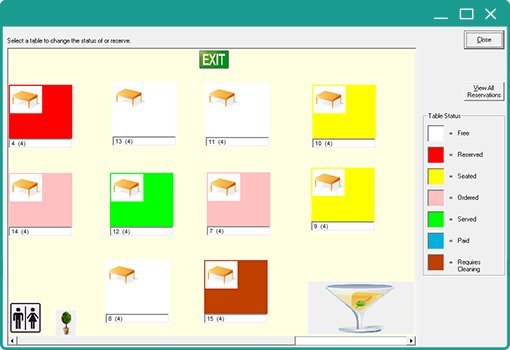 Customer loyalty programs and promotions
Increase customer loyalty and repeat purchases by managing points-based customer loyalty programs and other product promotions.
Frequently asked questions
Can I use any version of Reckon Accounts?
POS Lite and Professional integrates with Accounts Accounting, Plus, Premier and Enterprise. The version of POS and Reckon Accounts must be the same. 
How will I receive my software?
When you purchase a product on eStore, you will be provided with your licence key and a link to download the software as soon as you complete your purchase. For most purchases you can request the software on CD in case you need to re-install your product, along with related documentation.
Where can I find help installing POS software?
There are a number of ways to get your software installed and set up ready for use. Many users find it easy to follow the instruction manual themselves, while others, particularly those with more complicated business structures, appreciate help from an expert.
The Installation and Setup Guide provides step-by-step instructions for setting up your POS software.
Installation and Upgrade guide for POS Lite and Professional
Startup guide for POS Lite and Professional
Consult a Reckon Advisor
Reckon Advisors can help you set your entire system up. From choosing the right product, installing the software and provide one-on-one training, they are experts in Point of Sale software. Search for an Advisor
What are the Accounts system requirements?
System Requirements
2.0 GHz Intel Pentium IV (or equivalent)
1GB RAM for Windows Server2008/2012/2016*
1GB of RAM for Windows® 7, 8 and 10 users (Windows 8 & 10 require 1GB for 32-bit & 2GB for 64-bit)
Microsoft® Windows® 7/8/10 operating system
1GB of disk space (additional space required for company files)
Microsoft® .NET Framework Common Language Runtime 2.0 & 3.5 (provided on Reckon Accounts Installation DVD, requires an additional 150MB)
(New Zealand only) Microsoft® .NET Framework 4.0 for the Reckon NZ Payroll E-File Checker (provided on Reckon Accounts Installation DVD, requires an additional 150 MB)
Requires 9 MB for Pro Timer
At least 256-colour SVGA video
1024 x 768 pixel screen resolution
DVD drive or Internet connection for downloads
All online features/services require Internet access with at least a 56 Kbps modem (ADSL or Cable Modem recommended)
*Windows Small Business Server 2008 requires 4GB RAM. Windows Small Business Server 2003 is not supported.
** Not all versions of Windows 7, 8 and 10 are supported. Support is provided for Windows 7, 8, 10 Pro and above.
Integration/Compatibility Requirements
Microsoft Word and Excel integration requires Microsoft Word and Excel 2007, 2010, 2013 or 2016
Compatible with Reckon Point of Sale Lite or Professional (latest version only).
Multi-User Requirements
Multi-user mode is optimised for Microsoft Windows® Server 2008, Windows® Server 2012 and Windows® Server 2016 operating systems, and for Windows® 7/8/10*
Terminal Services are supported for Reckon Accounts Premier and Enterprise
*Not all versions of Windows® are supported. Support is provided for Windows® 7/8/10 Pro and above.
Try Reckon Point of Sale Professional today!
A Point of Sale solution with all your business needs.