RECKON ONE
Business Activity Statements
Everything you need to know about BAS and how Reckon One can help.
What is BAS?
A Business Activity Statement (BAS) is a form that businesses must submit to the Australian Taxation Office (ATO) in order to report and pay their tax liabilities. A large part of BAS is related to GST. For example:
Your business charges $50 for your goods or services so your customer will be charged $55. The additional $5 is the GST that needs to be paid to the ATO.
Your business buys supplies, you will be charged 10% in GST which you can claim back from the ATO as a credit.
When you complete a BAS form you are essentially reporting the goods and services tax amount you've collected on your sales minus any that you've paid on your purchases, with the difference being your refund or what you owe to the ATO.
Your BAS can also include PAYG withholding and instalments, wine equalisation tax, fuel tax credit and fringe benefit tax if these apply to your business.
Do I have to complete a BAS form?
If your small business is registered for GST you need to lodge a Business Activity Statement.
You must register for GST if:
Your business has a GST turnover (gross income minus GST) of $75,000 or more per financial year
Your non-profit organisation has a GST turnover of $150,000 or more per financial year
You are a taxi driver and ride-sharing driver no matter what your turnover is
BAS due dates
If your business has a turnover of $20 million or less you can choose to lodge monthly or quarterly (over $20 million must report monthly).
| Monthly | Lodgement date |
| --- | --- |
| January – December | 21st of the following month |
| | |
| Quarterly | Lodgement date |
| July, August and September | 28 October |
| October, November and December | 28 February |
| January, February and March | 28 April |
| April, May and June | 28 July |
Note: If you use the services of a BAS or Tax Agent then you will also be entitled to an additional month to lodge for each BAS.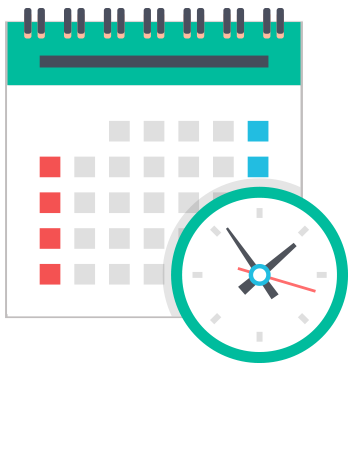 Interactive GST calculation worksheet
This worksheet allows you to work out GST amounts for your BAS form.
How to prepare a BAS
There are three main steps to completing your BAS:
1. Prepare your information
Reconcile your accounts to ensure that all your information is accurate and up-to-date. This involves collating your business transactions such as receipts, invoices and ensuring they match your accounting information and there are no discrepancies.
2. Calculate your totals and enter figures
Now that your information is accurate it's time to calculate your totals. You can do this via a report in your accounting software or adding up all your numbers if you use a manual method (see GST calculation worksheet).  Once you have your totals, transfer them to your BAS form.
3. Lodge and update
There are three main ways to lodge your BAS:
Mail a hard copy of your BAS form to the ATO. The ATO will send you the Business activity statement form with a pre-addressed envelope to send it back.
Lodge BAS statement online through the ATO's Business Portal
Engage a BAS or Tax agent lodge for you.
Whichever option you choose make sure you save a copy of your BAS statement and update your accounting information with your figures.
Reckon One makes lodging your BAS easy
Run the Reckon One "Activity Statement (BAS)" report that will help you generate the exact figures to enter onto your business activity statement form.  Save and mark as lodged to help you stay organised. All Reckon accounting products are Simpler BAS enabled including Reckon One.
Activity Statement BAS Report
Follow our step by step video tutorial for calculating your BAS figures in Reckon One.
Transcript
Reckon One assists you in completing your Business Activity Statement by totalling your GST transactions into the GST Summary Report.
This report is prepared from the tax codes assigned to transactions.
When you start using your Reckon One you need to configure your Book so that GST is properly tracked.
In Administration, Settings,
Under General, Report Settings,
Select the Reporting Basis appropriate for your business – Accrual or Cash
In Settings, Under Tax Settings, General,
Enable Tax Tracking by selecting Yes to the question "Are you registered for tax".
Confirm that the Reporting basis is correct – Accrual or Cash, and that it corresponds to your earlier selection.
Select whether you want your amounts displayed as inclusive of tax – Gross; or exclusive of tax – Net.
Also, take note of the Account Names your GST collections and payments are posted to.
Now in Tax Settings, BAS details,
Select your Reporting period and the option – we'll use the most common one Option 1;
How amounts will be shown – Gross or Net; and
tick the additional taxes you want to track in this lodgement.
Information about where each tax code will be shown on the BAS preparation sheet is available in TaxSettings, Tax codes and groups, in the Report label column.
Your Book is now ready to record the GST component of your transactions.
Once your Settings are complete you can get your BAS figures from
Tax;
BAS; and
click on Add.
Select your period;
And click Save.
Your BAS form will open where you can view your amounts.
Complete any header details you desire, and
Save the report.
Now print or email the report; and
Use these figures to complete your BAS Lodgement Form.
When you have lodged your BAS Return, click on Mark as Lodged to note it.
You'll see the status of your BAS in the table.
To process your BAS transaction, use a Journal with debits (or credits) to the relevant ledger accounts with the net amount credited to your bank account.
Thank you for watching this video and if you have further questions please go to reckon.com/support
Try Reckon One today for free
Take control of your finances and keep track of receipts, payments and GST.
This information is of a general nature for guidance and is not professional advice.