RECKON ONE
Online accounting software
perfect for
small & medium businesses
A better fit for your business, saving you time & reducing complexity.
30 day free trial. Cancel anytime. Unlimited users.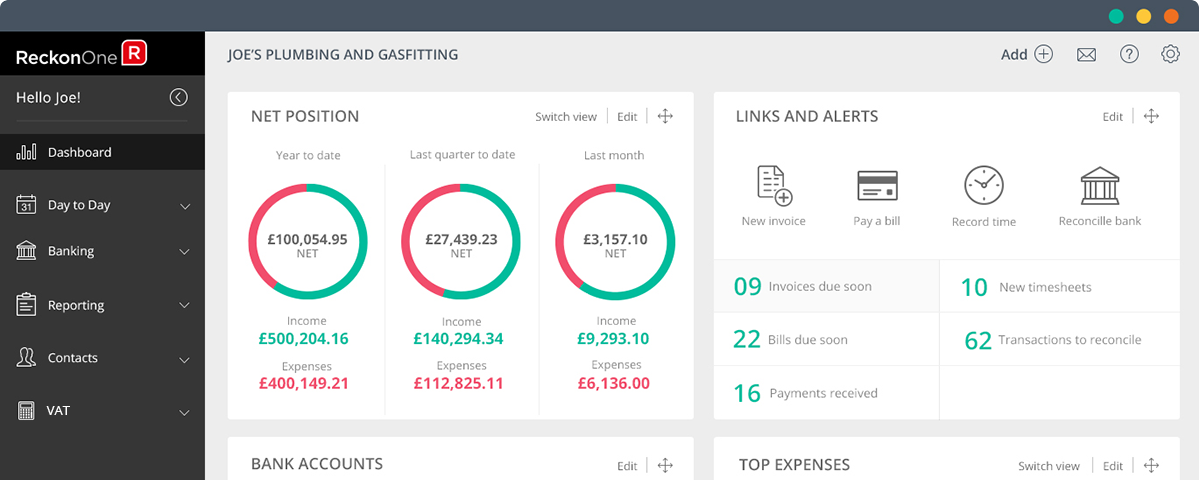 The best of both worlds. Breathtaking to look at and super affordable.

The basics from £3/mth
Clarity on your small business's income and expenses. VAT, budgets & reports.
The basics

Send unlimited invoices from £2/mth
Send beautiful invoices from our free mobile app.
Explore invoicing

Smart job management from £2/mth
Track profit, charge different rates, simplify your invoicing.
Take control

Free & unlimited users
Your entire team working together simultaneously, at no extra cost!
Choose a plan that suits your business
The Basics

For those just starting out

Mix and match!

Most popular!

Essentials

Scaling up your business

Mix and match!

Pro

Taking it to the next level

Mix and match!

Premium

Acing it with the whole package

Mix and match!
Do all the basics (Core)
Enter payments and expenses
Track and report VAT
See cash flow in real-time
Create budgets
20+ insightful reports
Share with accountant or bookkeeper
Create invoices and bills
Easily create, send and manage invoices and bills
Unlimited
Unlimited
Unlimited
Reconcile bank transactions
Automatically import bank transactions, then easily sort and reconcile
*1000 Transactions
*1000 Transactions
*1000 Transactions
Track time and expenses
Track employee time, manage expense claims and on-charge expenses to clients
Unlimited
Manage projects or jobs
Organise accounts into projects, charge different rates and track profitability of jobs
Unlimited
Invite unlimited team members
Free, regular feature updates
Data stored in AWS secure servers
Built for everyday business owners
like you, the non-accountant

Easy accounting.
Our software uniquely simplifies to your needs, so it's easier to learn and use.

Powerful functionality, made beautiful.
Makes complex accounting tasks seem intuitively easy.

Save time, work faster.
Everything is a click away. Open multiple browser tabs for powerful navigation.
Introducing Reckon Cloud POS
We've just launched a new cloud-based point of sale solution – Reckon Cloud POS! You can now easily manage your retail sales anywhere, anytime – together with your accounting using Reckon One. It's fully integrated.

"Reckon One is not only a pleasure to use, it is the best investment my small business has made thus far. Consistently saves me 10 hours per week in bookkeeping time."
Ken Morrison, The Celtic Bakery
Popular features that will supercharge your growing small business.
Online accounting software that scales with your business, from very small, to large. We've got you.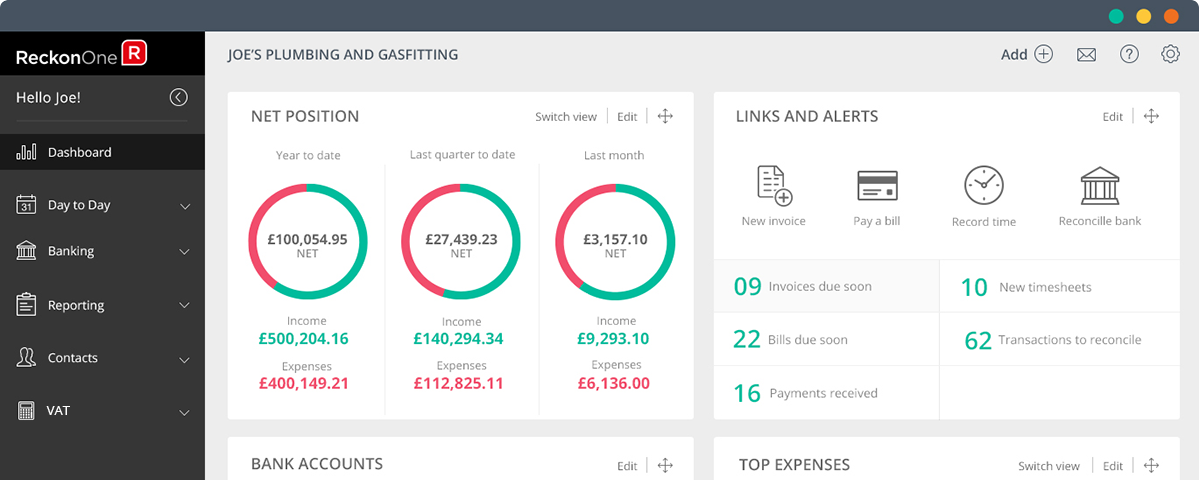 "Love it! So easy to use. Perfect for my very small business."
Nicole Ruigrok, Each Peach
Borderless business.
A free mobile app, and unlimited users.
Online accounting software that lets you take you small business out on the road.
To be available on iPhone and Android smartphones.

"Reckon is user friendly to people like me, a mechanic,
making my bookwork accountant-ready."
Free Reckon One
review guide
Read the ultimate overview of Reckon One to discover why our online accounting software is the perfect fit for your business.
World-class local support.
Our customers constantly rave about our exceptional support team.
I really like using Reckon. It is a very easy programme to use and I have always had great help/service from the Reckon team
Diana Mcdonald | Everton Excavations
Great conversion from Xero, good customer service and a much better price. Many thanks
Lindsay Forwood
Awesome, friendly help to solve my problem. Quick, efficient and very knowledgeable. Spoke respectfully to me even though I am not tech savvy.
Carrie Evans
Partner with us
Over 6000 accountants, bookeepers and consultants are already part of the Reckon network.
Partner with us to grow your business and gain access to marketing tools, training, tech support and more!

"Reckon One has been a complete game changer for my business."
Stephanie Luck, Bookkeeper
There are a million reasons to love Reckon One.
Small businesses, it's finally time to get excited about your online accounting software!

Bank-level security
Your data is encrypted, and protected with bank-level security.

Automatic backups & updates
Your data is safe, and you're always on the latest, cutting-edge online accounting software.

Cancel at any time
Switch us off whenever you want. Your data is saved for 7 years.

Works on all devices
Our online accounting software runs on your PC, Mac, tablet or smartphone.

Connect with an expert
Your accountant or bookkeeper can now help your small business in real-time.
No credit card required
Try Reckon One without needing to disclose your credit card details.
29 Years'
Reckon is an Australian Listed Public Company with strong financials.
600,000 Users
Have chosen Reckon to run their businesses.
24 Hours
Support through our active online community. And unlimited telephone support during business hours!