Products to power your business
It's time to get excited about your accounting software.
The next generation of online accounting software is here. And it's breathtakingly simple.
Reckon One is the perfect fit for small and medium sized businesses. Now you can have it all, for less.

Try completely free for 30 days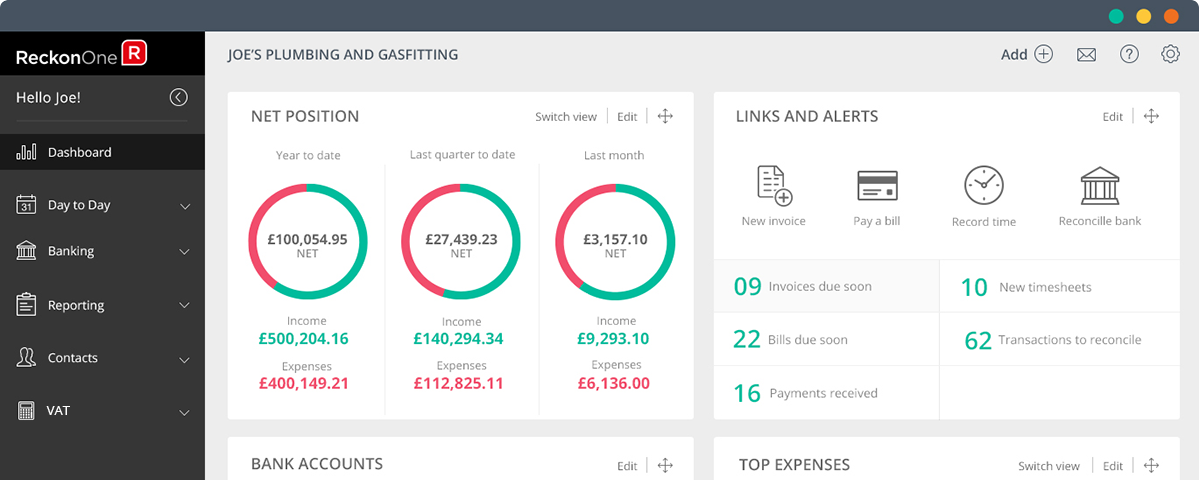 "Love it! So easy to use. Perfect for my very small business."
Nicole Ruigrok, Each Peach
Need business and financial advice?
Search for Reckon One accountants, bookkeepers and consultants across the UK.
We won't make your business. We'll make it great.
A one-stop shop for thousands of successful businesses, accountants and bookkeepers around the world.
#winning years. We are an Australian Listed Public Company with strong financials.
of top 100 UK Accountancy firms prefer to use us
Free guide: Electronic document management & secure document transfer for your business
World-class local support
Our customers constantly rave about our exceptional support team.

"We have found support to be really good, very responsive, and we have also found a happy mix between being sufficiently resourced to deal with a problem, but also know them on a first name basis, so when they come and visit our office, they know our systems inside and out."
Shaun Mary, Lovewell Blake

"The transfer of data from the old system to Virtual Cabinet was handled really well and the on site training was excellent. The customer support is also very good and members of staff give the impression that they actually care about you."
Chris Humpage, RDP Newman and Partners

"From first contact to the installation the advice and support we received was first class, which has continued while we are getting used to the system."
Jerry Heans, Hose Rhodes Dickson Financial
Our awards
Reckon has been recognised for the good work we're doing in the document management and accounting software space.
Here are just some of the awards we've won!