Open Banking is now available in Reckon One!
Connect your bank in minutes and get the full picture of your business finances today.
All your business needs
Everything you need to run and grow your business. We're a one-stop-shop!
It's time to get excited about your accounting software.
The next generation of online accounting software is here. And it's breathtakingly simple.
The perfect fit for small and medium sized businesses. Now you can have it all, for less.

Try  free for 30 days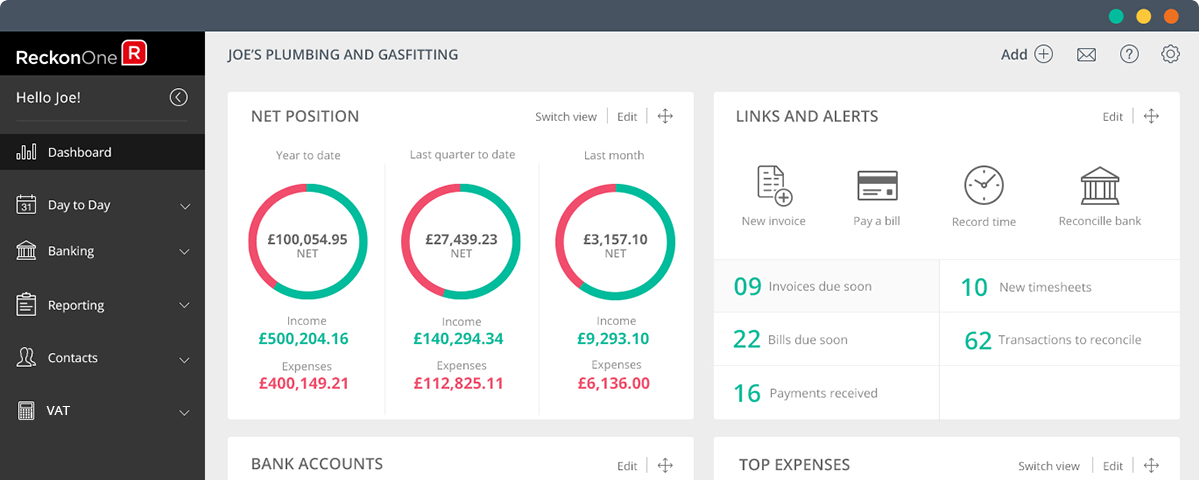 Better Bookings
Scheduling software to run any business
Scheduling software to run any business from any industry – whether you're a salon owner, a private tutor or a financial advisor!
We won't make your business good.
We'll make it great.
Thousands of successful businesses, accountants and bookkeepers around the world rely on Reckon.
#winning years. A Listed Public Company with strong financials
Better Clinics
Practice management for health and fitness professionals
Schedule appointments, manage bookings, keep track of your customer data and manage your finances all from one place.

"Reckon is the best accounting program I have used, and their support is 10 out of 10. I have been a bookkeeper for 30+ years."
— Barbara Brabiner, Whale Cove

"Reckon One is the most intuitive, full-featured accounting software I have ever used,
and I have used them all."
— Ken Morrison, The Celtic Bakery

"I use quite a few programs: MYOB, Xero, Handiledger. Reckon is the easiest to use, and the most user friendly, and I love the reporting."
— Dell O'Brien
Need business and financial advice?
Find your local Reckon certified advisor.
Search 6,000 Reckon Accountants, Bookkeepers and Consultants across Australia.