With this year's 2023-24 federal budget due to drop at 7:30 pm AEST on Tuesday 9 May 2023, the Reckon team investigate what our very own community of small business owners hope to gain from it.
Various forecasts and commentary on Australia's fiscal wishes and concerns have been swirling the news as of late. So, as we wait for the big announcement, we recently surveyed a spread of Reckon SME customers to ascertain which budgetary measures they hope will be national priorities in the financial year ahead.
Caching their concerns and overall confidence in the government's ability to deliver positive change, we gauge their overall sentiment. Let's dive into the temperature of their mood and outlook.
Reckon survey scope
We polled over 290 Australian businesses across a range of industries including retail, bookkeeping, construction, consulting, agriculture, and healthcare.
Our responders, who represent all states and territories of Australia, were largely concentrated in the sole trader and small business space, with employees generally numbering less than 20.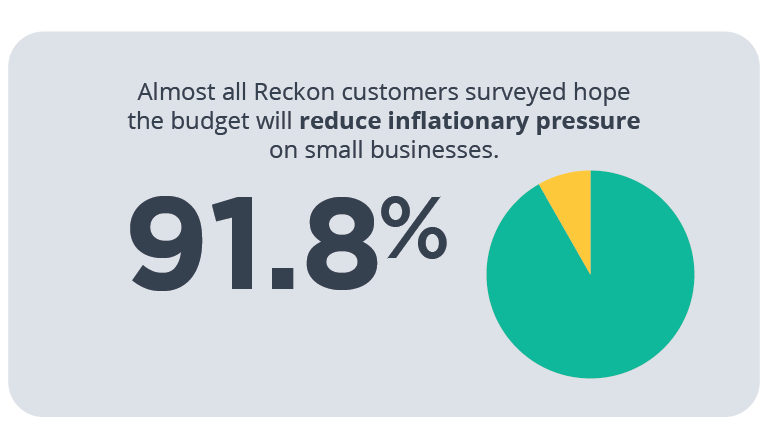 What are SMEs feeling about inflation and the risk of recession?
It's no secret that SMEs in Australia, alongside consumers in general, are suffering under the weight of rising inflation. As a remedy to this, we've also experienced a steady stream of cash rate rises from the RBA, putting pressure on borrowers in particular.
Even though we're now seeing inflation steady, we're still receiving cash rate rises, while cost of living pressures are still being keenly felt.
We asked our survey responders if they were hoping the government would have provisions in the budget to address inflationary pressures.
There was a resounding 'yes', with 91.8% wanting to see measures to address inflation.
We were also interested in understanding whether or not SMEs were more broadly concerned about a recession in Australia.
We found that 75% of small business owners were somewhat concerned about a recession.
To add to this relative economic pessimism, we asked whether enough was being done to strengthen Australia's economic prosperity and resilience, which in turns benefits small businesses.
Only 15% believed enough was being done to bolster Australia's economic prosperity.
Taken as a whole, this paints a picture of rather acute concern about economic conditions, with a strong majority seeking solutions to these concerns in the 2023-24 budget.
Where do SMEs want to see the most investment?
The federal budget will generally target certain sectors for deeper investment. These sectors, such as defence or healthcare, are also coupled with more general areas of concern, or prevailing national issues that need to be addressed.
We asked business owners to rate certain areas' importance in terms of budgetary focus.
We found that SMEs wanted to see more focus and investment in addressing inflationary pressures (22.1%), healthcare (21.9%), and personal and business tax cuts (20.3%).
Interest rates and power costs also ranked as of reasonable concern. Lower on the list were areas such as defence and super changes.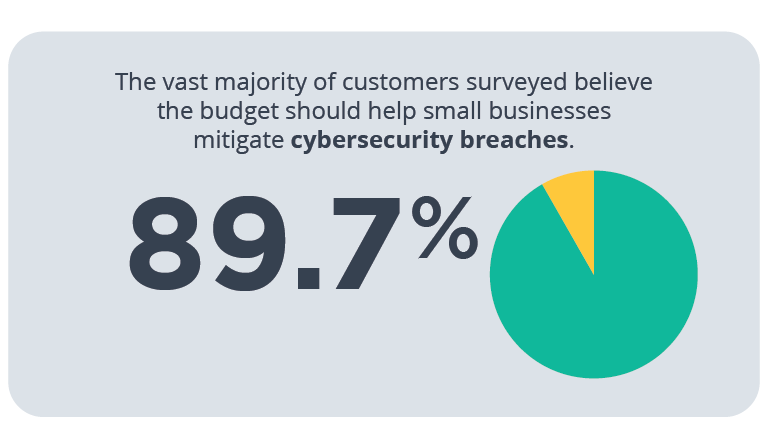 What about cybersecurity?
Across Australia, and indeed the world, cybercrime is on the rise. We're now seeing much more sophisticated incidents of phishing attacks, data theft, ransomware, and cyber fraud.
We were interested to know how the Australian SME community felt about cybersecurity and asked them whether the federal government should be doing more to support small businesses with cybersecurity.
A very strong majority of SMEs (89.7%) wanted to see the government do more to support them to combat cyberthreats and increase cybersecurity.
With the threat of fraud and data loss representing an existential threat to small businesses and their customers, it's no surprise this is front of mind for many SMEs.
What about more communal concerns like mental health and climate change?
We were also keen to learn more about more communal issues of concern, such as the global threat of climate change, and the increased awareness of mental health issues.
There was a relatively modest split when it came to raking the importance of these issues.
39% wanted to see provisions for mental health support, while 53% wanted to see more action on climate change.
While these areas are no doubt of prime importance, it seems that more immediate fiscal measures of support are dominating the thoughts of small businesses.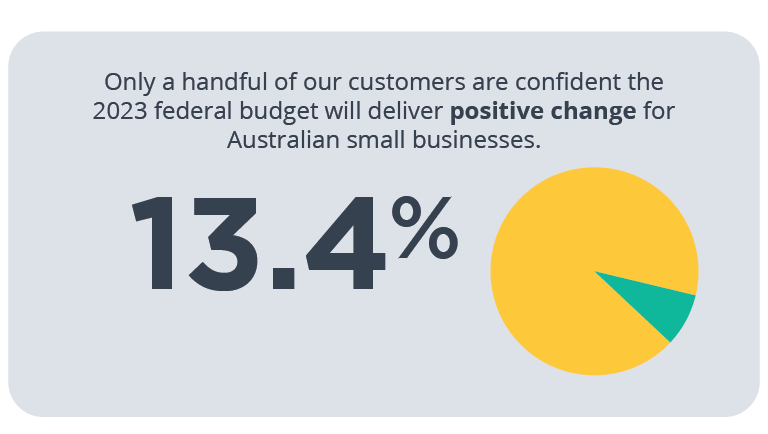 How confident are SMEs that this budget will deliver meaningful assistance?
We were also seeking to take the temperature of the SME community and better understand their confidence levels in terms of how this budget might support them.
Generally speaking, confidence in federal budgets to deliver meaningful assistance to a particular group is generally lackluster. This budget is no different.
A mere 13.4% of SMEs were confident that the federal budget would deliver them positive change.
While Jim Chalmers has stated that small businesses will be at the forefront of concern in this year's budget, and has already announced measures to address small business energy concerns, we'll have to wait and see what comes to pass on Tuesday 9 March. With this being his second federal budget in six months, the pressure is on to deliver a budget that eases the economic pressures that have been building of late.
With positive sentiment running low, let's see how it pans out.
Watch this space for a comprehensive budget roundup that will unearth what it contained for Australian small businesses and whether their concerns were addressed.