SMALL BUSINESS RESOURCES
What is a business strategy?
3 min read
You have a tantalising small business idea, a solid financial basis, and a lot of determination, but no business strategy. What is a business strategy and why does a good business idea need one, you ask?
Finding success is momentous task unto itself but maintaining that success throughout the long-term life of your business is the real prize. A sound business strategy will guide you there.
Business strategy definition
What is business strategy? A business strategy is simply the creation and execution of a plan of competitive actions that a business deploys to entice and retain customers, compete with other businesses, increase performance, and achieve business goals and objectives.. 
Good business strategies are often centred on long term goals, objectives, and customer satisfaction.
Companies with successful business strategies
Companies with successful business strategies follow certain patterns. On top of a well-designed business plan, successful business owners tend to be future focused with a healthy respect for their customers. 
When the nuts and bolts are sorted, it's this forward focused, service sensitive mentality that breeds business success. Here are two business strategies that are easily implemented and will immediately foster success.
Strategy 1: Future proof your offerings
Long term success will always be predicated on your offerings. Have a look at your services and products – do they have a long shelf life? Will they possibly be redundant soon?
Do you see the market being altered by up and coming technology? Is a new portion of the market going to open in the next few years?
It's hard to be exact when it comes to such predictions, but with a finger on the pulse, a sharp mind and some regular market research and reading, you should be able to make solid predictions.
In fact, the ability to do this is what top innovators and entrepreneurs possess to help them dominate a market before anyone else. Get your Nostradamus on.
In this department, a SWOT analysis can work wonders. What are your strengths, weaknesses, opportunities and threats?
Strategy 2: Respect every relationship
In the short term you can get away with being a bit insular, dismissive or even forming bad blood. This, however, is anathema to long term success.
Everyone you meet in your professional life can be a partner, a customer, an advisor, a source of information or even a valued mentor.
Give every person you encounter a chance to become part of your businesses growth and be extremely wary of burning bridges – you may find yourself landlocked later in your career. This mentality will also help you actively build your network, spread your brand to key people and grow your business quicker.
There are many business strategies available to the small business owner, by at least implementing the above strategies, you're well on your way to formulating a successful business venture.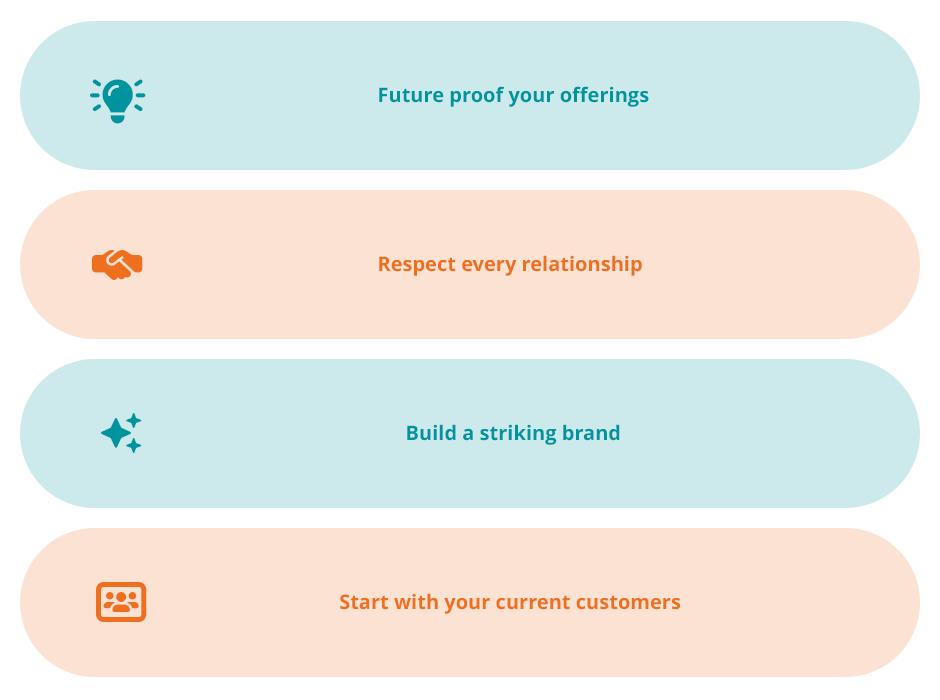 Marketing strategies for small business 
Creating top notch marketing strategies for your small business will position you for success. Here are two important business marketing strategies you should implement immediately.
Strategy 1:
Build a striking brand
Your brand is one of the most important components of ongoing success.
Think of branding as an ongoing investment. As you invest you'll be accumulating brand equity, eventually amassing a lot of 'wealth' in your businesses brand.
When it comes down to it – your business's longevity needs to be pinned to a recognisable and trustworthy brand which is attached to a solid history of positive results.
The long-term strategical benefits of branding will:
save you money and time over the long run

make it easier to introduce new products or services

lead to future clients, returning customers and referrals

build loyalty and trust

help you differentiate yourself from the competition.
Strategy 2: Start with your current customers
Your first port of call for marketing your small business should be your current customers. You already have a captive audience who trust you, know your brand and are happy to hand you their money. Start here.
The idea is two pronged: on one hand you should be taking the opportunity to increase sales by up selling, cross selling and creating long term customers through initiatives like loyalty deals..
The other prong is genuine customer service. You need to really tap into your client base, their profile, their needs, their wants – then surpass them. Don't try to be too tricky or superficial here, think genuinely and supply real value that builds appreciation. This appreciation builds long term customers and achieves great referrals.
At the end of the day, if your business strategy is well defined and reasoned, you've built a solid bedrock from which long-term business success can be built.
Free business plan template
Get your free editable business plan template to build out your business strategy and goals for the future.

​

Try Reckon One free for 30 days
Cancel anytime. Unlimited users.