SMALL BUSINESS RESOURCES
Tips to Learn How to Write a Business Plan
4 min read
If you're setting foot into the small business world and are unsure of how to write a business plan, don't worry – we've got you covered with our free small business plan template.
To kickstart your new venture, we also combined the free downloadable business plan template with some key strategy tips.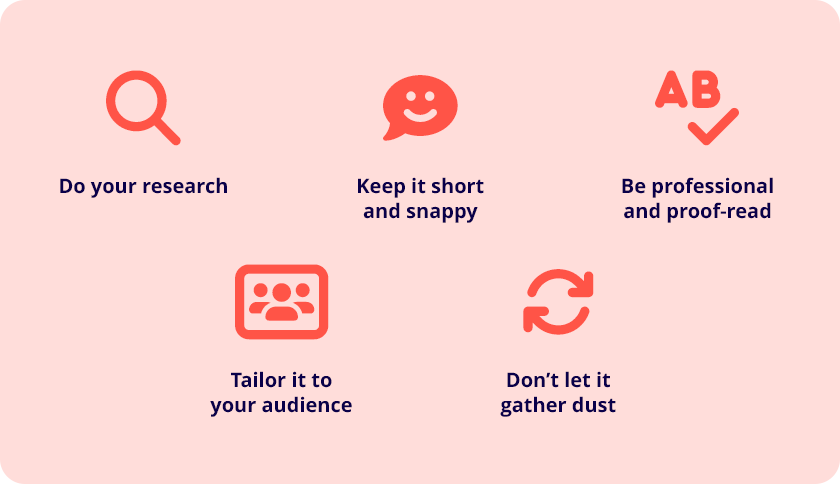 Small business plan
A business plan is a formal document containing a business's goals and objectives for the future. 
A small business plan also provides an overview of the day-to-day aspects of your small business including a business description, executive summary, market research, competitor analysis, financial forecasts, strategy, crucial information for potential investors, and much more.
Writing a business plan gives your business the best chance of financial success by helping you to flesh out your business proposal, outline key features of your business processes and gives an action plan of the specific goals you wish to achieve over a certain period of time.
If you're seeking external investors in your small business or courting finance, a solid business plan can also form an essential piece of evidence in your bid for funding.
While it can seem overwhelming, the time and effort you put into your small business plan is worth it for your long-term financial success.
Before you get started here's our five key tips for writing the perfect small business plan:
1. Research, research, research
How to start a business plan can seem like the hardest part, but it's straightforward.
Before you even consider starting a business you should have a good understanding of the market you plan on entering. 
Doing your research can mean the difference between success and failure, and it doesn't have to cost you anything. It's also the best place to start a business plan.
Networking, online research and informal focus groups are often all you need. Here's what to ask yourself before you take the plunge:
What is the market like, including its size and potential for growth?

Is there demand for your product?

Who is your ideal customer in terms of age, location, and other demographics?

Do you understand your competitors and how your product is different?

What is your estimate of start-up costs?

What marketing strategy will you implement?

Is the market too competitive?
2. Keep it short and snappy
How do you write up a business plan? Focus on readability rather than page count. Your reader should grasp the general idea of your business after skimming the business plan. 
The more succinct your plan is, the better. Here's our tips for how to create a business plan that is concise:
Enhance the readability of your document by including plenty of white space and consistent formating across your document so headings stand out.

Make information easier to absorb by including visuals and charts to show locations, products, services, and help.

Add summaries or an outline for each key section to help your reader identify key points quickly.

Add any technical information or research data as an appendix.
3. Be professional & proof-read
Remember your business plan is often the first impression someone gets of your business and you want to impress them. 
A well-written and presented business plan gives the reader an idea of the way you run your business. Even if your business plan is just for your eyes, you should still write and present it as if you were expecting external stakeholders to read it. Here's our tips for creating the best possible plan:
Proofread your business plan for clarity, spelling, and grammar mistakes.

Ensure your business plan has a title page, a table of contents and page numbers.

Always start with an executive summary that includes the key points and purpose of the plan.

Get a friend, mentor, or a professional business adviser's advice on how to improve it.
4. Tailor your business plan to your audience
Make sure to consider who will be reading your plan and the objective you want to achieve when writing it. If you want your business plan to resonate with your audience, you need to know what they care about.  
Different stakeholders value different aspects of your business so it's a good idea to have variations of your business plan for different purposes. Some examples:
Banks and lenders are more likely to be interested in the financial section so make sure your balance sheets and cash-flow statements are solid.

If you're looking for a potential business partner or investor, then highlight your management experience and overall business concept and strategy.

A manager in your business may use the plan to remind themselves of business objectives, goals, or the marketing plan.
5. Don't let it gather dust
Your business plan isn't something you create once and then forget about; it should be a living document. 
Your business, competition, and the overall market you operate in is likely to change over time, so you should review your business plan regularly to make sure you're still on track. Evaluate your progress against your goals and, if you need to, make any adjustments to them. 
Here's our tips for keeping it front of mind:
Make a habit to review your business plan at least once a year, if not more.

Don't keep the document locked away in a draw, it should be easy to access and refer to whenever you need.

If you do update it, make sure you keep the old copy. It's useful for evaluating progress and makes it easier to find information.
Small Business Plan Template
Still a little hesitant about how to do a business plan for small business? Not a problem, because we've got you covered.
If you're ready to get moving on a small business plan and are looking for a starting point, we've created a free business plan template you can use for your own business.
Free business plan template
Get your free editable business plan template to build out your business strategy and goals for the future.

​

Try Reckon One free for 30 days