THE ROAD TO RESILIENCE

Scott Neasham, Founder of Elite DJs Perth
4 min read

You can choose to let things restrict you, or you can let them propel you forward.
Scott Neasham, Founder of Elite DJs Perth
When Scott Neasham injured his back in a huge car accident, his life was turned upside down. A number of years later, bad luck struck twice when he suffered from a work-based accident which left him partly deaf in one year. But he was determined to build a successful business that enabled him to do what he loves – playing music and showing people a good time. Scott shares his amazing story of resilience.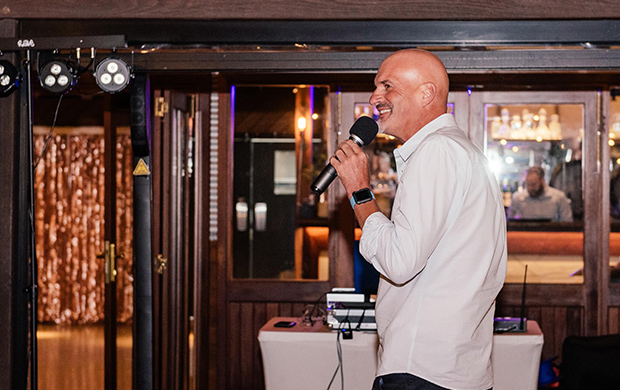 I'm DJ Scott-E, one of Perth's leading wedding DJs. I do around about 150 gigs a year, and that can range from weddings right through to school functions. I've been doing this full time for about 10 years – and it's one of the best jobs in the world.
I found myself in this profession under very unusual circumstances…
In 2008, I had a huge car accident and significantly injured my back. I later found out the reason why my back was damaged so much in the car accident is because I've got an autoimmune disease called ankylosing spondylitis [an inflammatory disease that can cause bones in the spine to fuse]. From there, throughout the whole rehabilitation progress, I developed fibromyalgia [chronic muscle pain].
The thing with ankylosing spondylitis is the fitter you are, the less the symptoms you have. When I was working full time, I couldn't exercise because all my energy was focusing on working. Now, I run 5 to 10kms a day. I'm still in pain, but it's only mild. Following the accident and diagnoses, I had a workplace injury which caused me to suffer from acoustic shock.
"By the time they'd actually discovered I had ankylosing spondylitis, it was that far gone – they literally wrote me off."
As part of the process for getting the disability support pension, you had to do a program of support. So I set up Elite DJs Perth and that took off and I got fit and I started working more and more. Strangely, as a result of the worker's accident, I can actually hear frequencies better than what I could do before the accident. It's like one ear's partly deaf and the other one's like I could hear a pin drop in a room. That's why I produce music now.
The circumstances that led me to becoming a DJ are bizarre, but I love what I do and I've been lucky to turn it into a successful business. I get fed, I get watered, I get to DJ and make people's nights – and I get paid really well on top of it. Every day's great at my job.
I've been through a lot, but as Kelly Clarkson says, "What doesn't kill you makes you stronger." You've just got to take things as they come. The real restriction with disabilities, believe it or not, is mentally. You can either choose to let things restrict you or you can choose to let it propel you forward. I suppose the same thinking applies to COVID-19. A small business can achieve its goals and stay afloat even in times like we're in now.
Any small business should have a plan where they've got a fund they're saving for rainy days – and this is a rainy day period.
Any business that's going through tough times, they really need to prepare for that beforehand, and just have a fund. Then, if they've got a breakdown of equipment or come into a hard period like now, they've got the money there for it.
I think resilience is the ability to overcome and adapt to a situation and just continue moving forward towards your goals. We're going to come through this. We don't know what it's going to be like on the other side, but I think Clint Eastwood said it very well in Heartbreak Ridge. "Improvise, adapt and overcome."
Set your goals, make sure your marketing's spot on – and, of course, have a good accounting software in the background. I'm a DJ, so everything comes down to software. Yes, I've got a good ear, but I also use key detection software on my songs. So you've got to have good software for that.
When it came to accounting, many moons ago I did some IT courses. Part of those IT courses were accounting. So when I started looking around, I just found Reckon was very, very easy to use.
I can also put the due date of the invoice two weeks before the wedding. So when I need to pull a report about what income I've earned in the financial year, I can exclude their deposits because obviously I haven't earned that money as yet. It makes it very easy for me to track payments and pull reports.
With COVID-19, changing invoices has been a breeze. I'm not a huge record keeping guy, so I needed software that I could easily add my branding to (on invoices), set templates for emails, use easily and not cost too much. Reckon ticked all those boxes.
Coronavirus hasn't changed life much for me outside of work because I'm immunocompromised, so I've been social distancing for a long time. Obviously, having an autoimmune disease, getting a cold can actually be catastrophic. There was one time I did get a cold and my ankle literally swelled up because of the nature of ankylosing spondylitis.
Yes, I've lost plenty of my work for this year. But when everything kicks back off again, it's going to be like,
"Hold onto your hat. It's going to be full on!"
Find out more about Reckon One software and our invoicing functionality here.
Accounting software that works as hard as you do

Take the hassle out of your everyday accounting, payroll and compliance needs through affordable, easy to use solutions.