THE ROAD TO RESILIENCE

Breanna Grebenc, founder of Parkes Dance Co

3 min read

I'm a very firm believer that life prepares you for what's going to be thrown your way.
Breanna Grebenc – Founder, Parkes Dance Co
When a storm ripped the roof off her dance studio last year, Breanna Grebenc had to overcome a multitude of hurdles to rebuild her business. Less than a year later, COVID-19 has closed her studio doors once again. But when you're as passionate about kids and dancing as Breanna is, you'll always find a way to get through. Breanna chatted to us about her love of teaching dance, some of the lessons she's learned about running a business and how she's taking her classes online.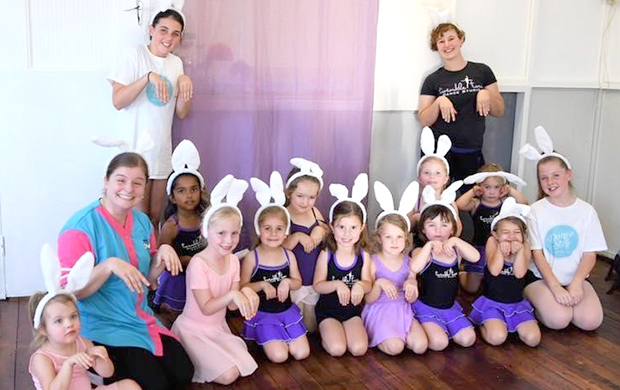 I grew up dancing in Parkes and Forbes, and we had to travel and travel so I could attend classes, as there were limited opportunities in my area. It really motivated me to bring everything I'd learned and my certifications and training back to my hometown so I could pass it on to the kids.
I purchased Parkes Dance Co about five years ago. Since then, we've grown from 70 kids to about 200. We've now got our own huge facility with three different studios and have taken on six employees. The teachers are just so enthusiastic, creative and caring.
They always say dancers make the best workers because they're so committed and positive. The kids in my classes learn about resilience, how to take constructive criticism, how to take something and commit to it and then achieve those goals.
"The kids in rural areas have so much fire and zeal in them. They just want to grab whatever opportunity they can get and learn as much as they possibly can."
Last year, a big storm ripped through the town and damaged the roof leaving us out of the studio for six months. It was a huge thing to be able to find somewhere that could host 200 kids in a week. Thankfully, the Parkes Presbyterian Church was able to put us up.
It was really tough to see how it impacted the kids to lose their beautiful studio for six months. Although a venue doesn't decide what your classes are, it has an impact on the overall morale of the kids and parents.
I'm a very firm believer that life prepares you for what's going to be thrown your way. It was an incredibly hard time, but we got through it and flourished. I learned a lot about how to stay positive when everything is incredibly bleak – with the thought that I'm learning something I didn't know before which will serve me well in the future.
Less than a year later, COVID-19 struck. The lockdown has had an immense impact on my business. We've had to close our doors completely. After it was announced, my staff and I took a week or two to find ourselves again and then made plans for our online classes – which we've just launched. I was also able to access the JobKeeper payment to pay some of my staff.
We've been able to pre-record lessons and put them up onto our website for the kids to access. We've also started live classes for the kids to participate in, chat to their teachers and catch up with friends they might not have seen in a few weeks.
We've learned a lot throughout the experience about teaching digitally. But, the staff have really flourished and we have a lot of excited kids to see their teachers again after so many weeks. Some people travel over an hour to get to dance classes, and not everyone can do that every week. So, the fact that we've now got a whole library of video classes to offer them once all this is over is amazing.
The payroll function has been a life changer because it helps us have the correct pay rates for our employees. It makes sure that they're paid the correct hours and then spits out a beautiful pay slip at the end of it. The reporting function in the Single Touch Payroll has really helped me see the shortfalls in my business and it's also helped me see how I can maximise the parts of my business that are doing well.
For me, a successful business is being able to provide a service that you're passionate about – and providing it to the best of your ability. It's about having happy customers and happy kids at the end of it. If the customer's happy, then you've done your job well.
Find out more about Reckon One software here.
Accounting software that works as hard as you do

Take the hassle out of your everyday accounting, payroll and compliance needs through affordable, easy to use solutions.