SMALL BUSINESS RESOURCES
Tools used in financial management

3 min read
The tools used in the financial management of your business can make or break your financial success. If you want to reinforce your business, there are assorted financial management tools you can get your hands on to help.
Financial management for small business owners can be as simple or as complex as you make it. With the right tools for the job, you can be sure your time and management capacity is maximised.
To save yourself hours of manual work and stress, while also improving budgeting, accuracy and analysis, a modern small business needs to rely on financial management tools.
Here are a few tools that will boost your small business financial management efficiency and techniques.

Simple CRM
For a medium to large business, a CRM system that is too simple can amount to error-prone slabs of data and a spider web nightmare of integrations with your other systems. 
However, if you're a small business this can be a far simpler affair.
A CRM, or customer relationship management tool, contains your business's lifeblood data and can be far more powerful and simple than the behemoths of the past. 
A simple CRM can also be effectively deployed in even the smallest of businesses where you may think it's not necessary.
So, what are we looking for today in small cheap and modern CRMs for small business?
Managing leads

Automating sales processes

Automating email campaigns

Managing simple pipelines

Basic sales and marketing reporting

Client information records
STP enabled payroll solution
A single touch payroll enabled payroll solution is now virtually essential for all small businesses. 
If you don't know about STP you're in danger of a little shock, so please get across this change to payroll reporting here at our free and comprehensive STP resource page.
What you'll now need is an STP enabled payroll solution to ensure you can report to the ATO correctly as well as reap the multitude of benefits digital payroll and accounting brings to your business. 
More of a necessity than a luxury but it represents an easy to overcome barrier coupled with some surprising benefits for first-time users of modern payroll apps and solutions.
Use this chance to upgrade and automate some of your other business systems in the same app for the same outlay.
You can download the Reckon Payroll app on the Apple Store or Google Play.
Mobile cloud POS
Mobile cloud point of sale tools allow you to easily adapt your business model and stay nimble, mobile, low cost and profitable.
A revelation for small retail businesses the globe over – this is a game changer for micro projects and larger businesses alike. With the ability to roam a marketplace or conference, change storefronts, or move your food truck without hassle – this untethered payment collection set-up is a powerful tool.
Almost indispensable for a modern mobile business, and even a handy tool for fixed ones, a mobile cloud POS solution can grant you the following:
Anywhere, anytime payment collection

Inventory management

Sales management and analysis

Customer retention

Employee management
Small business financial management software
Small business financial management software is the most important tool here. 
Also known as accounting software or cloud accounting software, these tools are essential for simple, automated, and compliant management of your business finances, budgeting, payroll, and tax responsibilities. 
Think of financial management software as the control room of your business's financials. 
Everything flows through it and can be managed, processed, and reported on. Many processes and compliance tasks like your business activity statements (BAS), invoices and payroll can be automated with cloud accounting software as well.
These are the primary functions of your financial management software:
Accounting: monitor your cash flow, expenses, reporting, financial analysis, manage GST and prepare BAS statements for EOFY.
Create invoices and bills: create customisable online invoices with credit card payment options. Track accounts receivable and accounts payable to better manage your cash flow and budgeting.
Payroll and employees:

manage payroll, STP, PAYG, leave and employee expenses.

Bank feeds:

connect bank accounts so your transactions automatically feed into your accounting software.
If you embrace these tools for the financial management of your business, you'll find yourself at the helm of a well-managed, automated, and compliant business. 
All this will result in better cash flow and financial techniques, as well as more time and less stress.
Free cash flow forecast template
Get your free editable cashflow forecast template to better map out your future sales and expenses for your business!

​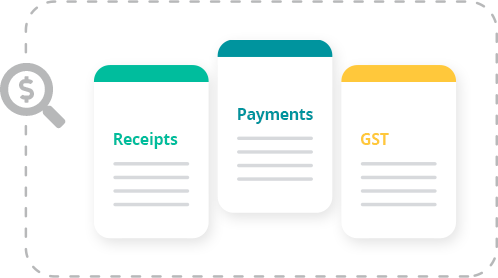 Try Reckon One free for 30 days