SMALL BUSINESS RESOURCES
Managing accounts receivable for small businesses
4 min read
If your business gets paid by issuing invoices to clients or customers (as opposed to upfront card payments, direct debit, or cash) you will certainly have to come to grips with managing accounts receivable.
So, what exactly is accounts receivable, how do you manage it, and what steps can you take to make your systems more efficient?
What is accounts receivable?
Accounts receivable refers to a ledger recording the outstanding debts owed to your business by a debtor. These are essentially outstanding invoices that you've issued to clients that have not yet been paid.
So, if your business has issued an invoice to a customer for work you've completed, yet you're still waiting for payment, you have accounts receivable. When customers pay you back, they are removed from the ledger.
It's also important to understand that (for accounting purposes) your accounts receivable is defined as an asset.
The difference between accounts receivable and accounts payable
While accounts receivable speaks to the debts that are owed to your business by customers or clients, your accounts payable is the opposite.
Accounts payable refers to the short-term debts you owe others, usually in the form of unpaid invoices.
So, if you've yet to settle an outstanding invoice with a supplier, you have accounts payable. If your client is yet to pay an invoice you've issued them, you have accounts receivable.
The accounts receivable process
So how does one go about the accounts receivable workflow? A basic process would look like this.
1) Quote or sales request
A customer enquires with you about work to be done, and you provide some form of a quote.
2) You are engaged as a supplier
Your customer agrees to the terms and conditions of your quote, officially engaging your business to perform the works.
3) Work done!
You go about your business and complete the work for your client.
4) Send invoice
Once you've delivered the work, it's time to invoice your client for payment (usually with payment terms of 30 days.)
5) Record the invoice in your accounts receivable ledger
Using accounting software or invoicing software, you record the invoice in your accounts receivable ledger. Today, much of this process can be automated, whereas, in bygone eras, it would be logged manually in Excel. Avoid this antiquated method.
6) Collect payment
After receiving your invoice payment, adjust your accounts receivable ledger and reconcile your accounts to show the payment.
Managing your accounts receivable ledger
Undoubtedly, the best way to maintain and manage accounts receivable is with dedicated accounting or invoicing software.
Not only does accounting software automate and record much of the invoicing and accounts receivable process on your behalf it also reduces the potential for error.
From your software, you can view and manage your ledger as required. You can also produce reports on your accounts receivable and your financial statements as required.
A primary report would be an 'accounts receivable ageing report'.
This is a highly useful document that helps you quickly see who has exceeded your payment term dates, and who is a late payer or non-payer repeat offender. This report can help you prioritise your reminders or choose to no longer extend credit to clients. It's also useful as evidence when you need to write off bad debts.
The aim is to keep on top of the ledger to make sure you record everything correctly, get paid on time and boost your cash flow.
The importance of accounts receivable management
Once you've completed work for a client, you need to go about collecting payment. Sounds obvious right? It is. But this is the point of good accounts receivable management.
If you have spent time and money on jobs, and have yet to receive payment, it could jeopardise your ability to pay your own bills, generate income and trade—a serious issue indeed.
Getting paid quickly is the primary concern for most businesses, and this comes down to astute accounts receivable management. Check out some ways to better manage your process below…
How do I improve my accounts receivable management to get paid faster?
1) Set up automatic reminders
Use your accounting software to send out automatic payment reminders. This should be simple to set up and very much worth it. By activating reminders, you can reduce your accounts receivable and do so in a hands-off manner that frees you up for other tasks.
(Many debtors don't realise they're late or have an outstanding invoice, so automated reminders are a must-have function to get your cash flow pumping.)
2) Create strict terms and penalties
When you create your invoice template, be sure to include strict payment terms. Make sure these terms include expected turnaround times and clear penalties for late payments. For example, you may add 10% to the invoice total for every 30 days late.
3) Require down payments
One of the best ways to avoid a large liability on your books is to request a down payment before work commences. This reduces the overall cash deficit in your business by decreasing the total accounts receivable ledger.
Demanding a down payment can certainly enhance your cash flow because if you're not paid the full amount on-time, you have a partial payment to keep you afloat.
4) Use eInvoicing if you're in the B2B space
If you're still issuing paper invoices through mail or email to your business clients, look into eInvoicing instead. eInvoicing sends an email directly from your accounting software to your client's accounting software. Reducing manual processes and payment friction, eInvoicing helps you get paid faster—and your accounts and ledgers are updated automatically.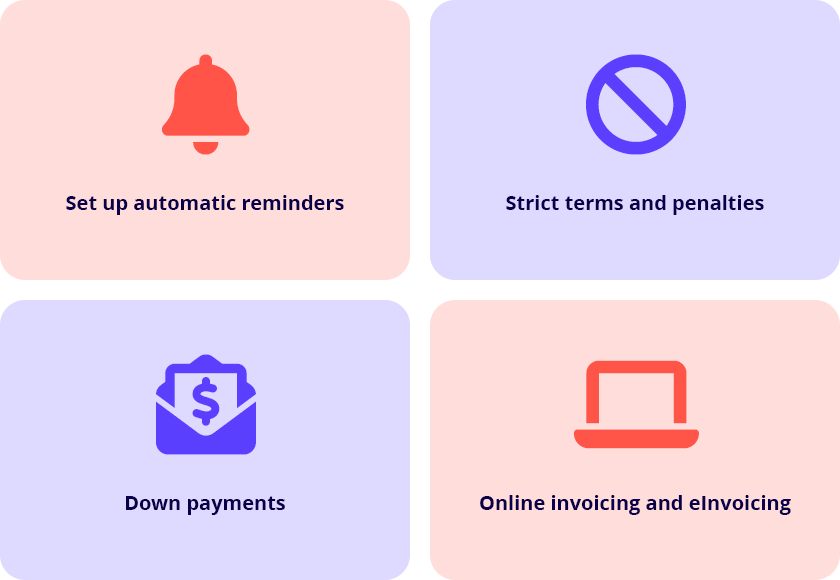 The key to efficient accounts receivable management? Automate!
The final word here is automation. This is not just about good software, but also good workflow setup.
Spend time with a bookkeeper or advisor to go through your accounting software and set up the most efficient and automated workflow possible, from creating and sending receipts, to managing your accounts receivable ledger, and reconciling your accounts.
Download our free GST guide
There's a lot to get your head around when you're starting a new business, and GST is just one bit most fledgling business owners will need to get to grips with. If you're looking for help, download our free guide to better understand GST.
​

Track and manage GST with Reckon One
Cancel anytime. Unlimited users.