RECKON CLOUD POS
Inventory management that maximises your profit
Ensure your business has the right products, at the right quantity, for the right price so you never miss a sale.
Create and update your products in seconds
Inventory management doesn't have to be complicated or time consuming. Simply import product lists to add new products or change prices in bulk with the csv upload functionality.  Create multiple variants of your products based on size, type and more for easy stock management. Reckon Cloud POS's inventory control features lets you assign unique SKUs to each variant to make your checkout a breeze.
Inventory software that helps you sell more
Track and analyse your product sales so you understand what your best sellers are, what's getting dusty on the shelf and what products are often purchased together for optimised stock control. Use this inventory data to make better purchasing decisions, inform the promotions you run and boost the general stock turnover of your store.
Search, tap or scan to find a product
Reckon Cloud POS's inventory management system makes adding products to a sale is quick and easy. You can search for an item with the in-register search bar, scan it in with connected hardware or tap it from your checkout dashboard shortcuts. It helps you process sales quickly and provide your customers a streamlined checkout process. Ideal for fast paced industries including hospitality and retail businesses.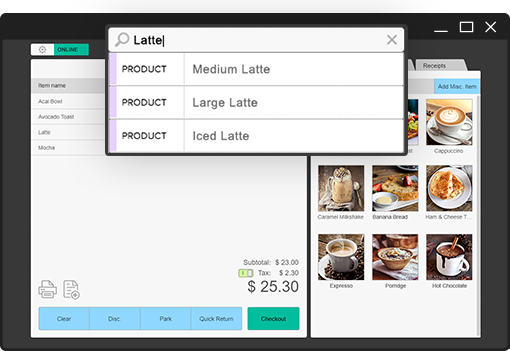 What is inventory management?
Inventory is the goods that a business has on hand to sell. Your inventory is a business asset representing future income from sales. Inventory management involves keeping track of these stocked goods and ensuring your business has the right products at the right quantity, at the right time and for the right price.
How can software help manage my inventory?
Free up your time
As the business owner you have a unique understanding of your business. So don't get distracted by entering numbers into spreadsheets and manually tracking your inventory. Cloud based inventory management software can do all of this for you, leaving you free to concentrate on your customers and building your business.
More accurate
If you manually manage your products it can feel like trial and error to answer questions like what to sell and how much to sell it for. Inventory management software can remove the guesswork and give you greater control of your business. You'll also have more accurate data to work from because product descriptions and prices are entered for you, so you'll avoid typos, mistakes and keep everything consistent.
Scalable
Many small businesses will try to manage their inventory through excel and spreadsheets. Once your business starts to grow, relying on Excel spreadsheets for inventory management can get out of hand, it's simply not scalable.  Your business will be better off choosing an inventory management system that's affordable and easy to use for small businesses, but still has enough features that it can grow with you.
Real-time data
One of the major benefits of cloud-based inventory management software is access to accurate sales and product data. Use reporting functionality to drill down into customers, product types, time & dates or categories. Easily identify your best and worst-selling products and base your business decisions off solid, up-to-date data. Plus, your POS and inventory are connected, so every time you make a sale your system updates the stock on hand quantities.
Why do I need inventory management?
Inventory management is crucial to the profitability and survival of any small business because it can help you:
Maximise profits
Know your best-selling and most profitable product lines.  See how much profit you're making on your products, and use this information to make the right decisions about what to order and how to price it. Check on your stock levels so you never miss out on a sale.
Reduce wastage
Excess inventory lying around your business carries the risk of spoilage, damage and changes in customer demand. If your stock is not sold in time it may have to be sold at clearance prices – or simply destroyed. This is particularly relevant if your business stocks products that spoil e.g. bakeries or grocers. That's why it's so important to optimise the amount of stock on hand.
Identify trends and predict future sales
Inventory management can ensure you accurately forecast your future sales and help you make other decisions in your business such as when to buy a new asset or hire more employees. You can also analyse your data and identify trends such as seasonality and use this information to inform your purchasing decisions.
What are the benefits of POS software with inventory?
A POS system with inventory management carries many benefits for your business.
Add new products
Simply import a CSV file to easily transfer large amounts of inventory into your point of sale register.
Improved accuracy
When customer buys a product you search, tap or scan it in. This means everything has a set price and description. You're less likely to make an errors that can lead to your business losing out on money or having incorrect stock levels.
Organise your register
There is a wide variety of options for organising your products including the ability to customise your POS dashboard with your most popular products for a quicker checkout process.
View stock levels
See the quantity you have on hand for all your products. Every time you make a sale these quantities automatically update saving you time and ensuring you always have up to date information.
Generate reports & insights
See what your best-selling products are. Export reports to excel for further analysis.
Try Reckon Cloud POS today!
An affordable, easy to use point of sale system with everything a small business needs to grow.
Try free for 14 days