RECKON CLOUD POS
Process sales and take payments with the cash register
The day-to-day point of sale features that let you run your store.
Handy features that make your checkout a breeze

Dashboard shortcuts
Create custom buttons for your most popular products or categories and speed up the checkout process.

Email receipts
Provide your customer with a physical receipt or email it to them at the time of the sale or whenever you need.

Easy discounts
Add a discount to a specific line item or off your customer's whole basket by percentage or dollar amount.

Split payments
Make it easy for your customers to pay you! Process split payments across different payment methods.

Custom receipts
Add notes on your customer's receipts to let them know your contact details, your website, care instructions or special discounts.

Parked sales
Temporarily park any sale and quickly retrieve it when your customer is ready to complete their transaction.
Accept a variety of payment methods
Accept all payments including cash, cheque, debit cards, credit cards, gift cards and even loyalty points. We also offer seamless integration with PayPal.
Customise your dashboard
The home screen of your point of sale can be customised to suit your business.  Add large icons or pictures of popular products to make it quick and easy to find them in the checkout. You can even add items into groups if you have similar products under the one category.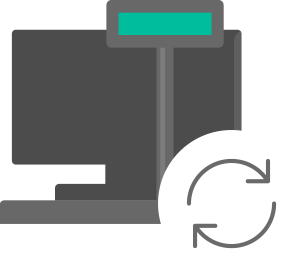 Work online or offline
Reckon Cloud POS works online and offline so you never miss a sale even if you lose internet connection. Your inventory and POS sales will automatically sync back to the cloud when your internet connection returns.
Try Reckon Cloud POS today!
An affordable, easy to use point of sale system with everything a small business needs to grow.
Try free for 14 days