PRESS RELEASE
Fee from refund process streamlined with Reckon and Refund Manager partnership
SYDNEY, Australia – 18 May, 2021 – Australian accounting software provider Reckon (ASX:RKN) has today announced a strategic partnership with company Refund Manager that will allow accounting practices to take the hassle out of the fee from refund process.
Fee from refunds allow customers to avoid paying an upfront accountants fee on their annual tax returns, instead directly deducting the fee from personal refunds received from the Australian Taxation Office. However, the process is prone to error and time consuming for accountants because they must keep spreadsheets, manually input data, and actively manage balances and settlements in their trust accounts.
To simplify the process, Refund Manager was developed by the creators of ELodge and to date nearly $1.4 billion worth of refunds have been managed through the system.
Refund Manager CEO Steven Gibson says he is proud to partner with Reckon and their Reckon Elite product, to help ease the administrative burden for accountants across Australia.
"We created an automated system that seamlessly integrates with other tax lodgement software. Once you're on our system, you can manage fee from refunds in just two minutes a day," says Gibson.
"The most important thing is that Refund Manager never requires you to give up control of your trust accounts. We give you the power through software to more efficiently manage and distribute funds."
Campbell Ross, Reckon's Strategic Partnerships Manager, says the company chose to partner with Refund Manager because of the simplicity and efficiency benefits to accountants.
"Dealing with the hassle of processing fee from refunds is known to be tedious and time consuming for accountants," says Ross.
"We have chosen to partner with Refund Manager to give our clients using Reckon Elite a much simpler and more efficient way of managing fee from refunds.  Simply complete the return, mark it as a fee from refund and raise the invoice.  Refund Manager will take care of the rest."
For more information or to sign up, visit: https://www.reckon.com/au/elite/refund-manager
For media enquiries, contact: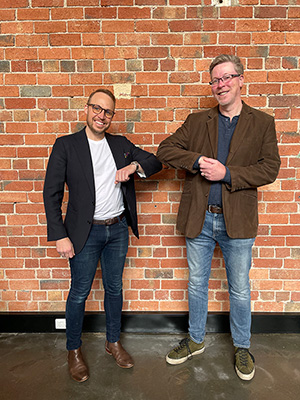 Pictured L-R is Refund Manager CEO Steven Gibson and Reckon Strategic Partnerships Manager Campbell Ross.
About Refund Manager
Refund Manager was developed by accountants for accountants. It integrates seamlessly with other tax lodgment software and allows accountants to manage fee from refund clients in just three easy steps: import the client's information, upload the latest Electronic Funds Transfer Report, and generate the Direct Entry File. That's it. To date it has processed more than half a million refunds with a total of nearly $1.4 billion worth of refunds going through the platform.  Visit refundmanager.com.au for more information.
About Reckon
Reckon is a proud Australian, publicly listed company, with strong financials employing over 300 people in our operations across the world. We're delivering market leading solutions to accountants and bookkeepers, legal professionals and small to medium sized businesses. With over 30 years of experience in the accounting and payroll software industry, your business is in safe hands. Find out more at www.reckon.com