Business Line of Credit
Apply today for a revolving line of credit from $2000 – $100,000 to use and reuse when you like.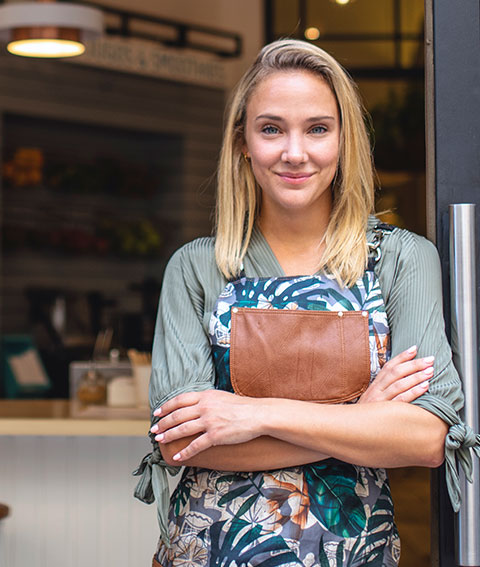 Business lending made simple to grow your business and manage your cash flow.
A Reckon Loans Business Line of Credit is a safety net designed to give you the confidence to focus on what you love about your business – without worrying about day-to-day finances. Be approved for up to $100,000, dip in when you need it and pay competitive interest only on what you use, for as long as you use it.
Flexible
Manage unexpected cash flow gaps. Be approved for $2,000 to $100,000 to use & reuse as many times as you need throughout the
12-month term.
Fast & simple
Access to capital when you need it, with funding possible in as little as 24 hours. Plus, there's no security or paperwork needed to access the funds.
Helpful
Our friendly team of business lending specialists are available to answer any questions that you may have. Simply give us a call us today on
1300 901 570.
Why Prospa business loans?
We've partnered with Prospa to create Reckon Loans and provide our customers with business funding & lending that is faster and friendlier than your bank.
Reckon Business Loans is offered by Prospa Advance Pty Ltd ACN 006 593 219. Terms and conditions and fees and charges apply. Request more information by calling 1300 901 570. Reckon Limited is the introducer only and does not guarantee or support Prospa Advance Pty Ltd in any way. Prospa is not part of Reckon Limited.
How our business lending works?
We take the work out of getting a line of credit in three simple steps.
Apply for Line of Credit online or call us on 1300 901 570.
Get a decision and funding possible in 24 hours.
Access $2,000 to $100,000 in funds when you need them.
Business lending made easy
Complete the application below and get a fast decision and funding possible in 24 hours.
Thank you for submitting your application for a Reckon Loan
We'll notify you shortly on the status of your application and we may request some additional information from you.
In the meantime, please read the FAQs for any questions you may have.
Thanks for enquiring about funding with Reckon.
Unfortunately, we are currently not able to progress your enquiry to the application stage because your business does not meet our eligibility criteria.
Reckon Loans is a service offered by Prospa Advance Pty Ltd ACN 006 593 219. Reckon Limited is the introducer only and does not guarantee or support Prospa Advance Pty Ltd in any way. Prospa is not part of Reckon Limited. Reckon receives a fee for referral or may elect to participate in the loan. Eligibility and approval is subject to standard credit assessment and not all amounts, term lengths or rates will be available to all applicants. Fees, terms and conditions apply. These rates apply to Prospa's small business loan product only. See prospa.com for more details.
Frequently asked questions
Tell me about the Reckon Loans Line of Credit?
Reckon Loan's Line of Credit gives you access to a convenient and flexible source of funds between $2,000 to $100,000 and you only pay interest on what you use.
What are the borrowing costs with a line of credit?
Fees:
$0 origination fee
No penalties for early repayment
2.4% p.a. of the Facility Limit, paid weekly from settlement (0.046% weekly)
Only pay interest on the funds you use, while you use them
Rate:
Between 19.99% and 29.99% APR (annual percentage rate) depending on risk rate.
How long is my Line of Credit available?
Your Line of Credit will be available for a period of 12 months provided you make a draw down within the first 4 weeks. If you wish to extend your Line of Credit beyond this 12–month period, we will need to re-assess your business situation in case anything has changed. This re-assessment and approval can be done easily over the phone.
How do I pay back the Line of Credit?
When you draw down on your Line of Credit, weekly direct debit repayments, comprising of interest charged on the drawn amount, a portion of principal (1%) and any applicable fees, will automatically debited from your nominated business bank account. You will be able to see the calculated weekly repayment amounts in your mobile app or customer portal when you make the draw down.
In addition to your weekly repayments, you can also make additional payments at any time to reduce your drawn balance and the interest charged, which you can redraw on that balance whenever your business needs cash flow support.
What can a Line of Credit be used for?
A Reckon Loan's Line of Credit can be used for almost any business purpose – including activities that help you manage day-to-day cash flow. For example, it could be used for paying staff wages, covering unpaid invoices, buying urgent stock, managing seasonal fluctuations, pay BAS on time, paying suppliers and much more. The Line of Credit cannot be used for personal purposes.
What do you need to have ready before you apply?
Your Driver's Licence number
The ABN for your business
The BSB and account number of your main trading account
The 12 latest banks statements*
*You can use the electronic bank statements link which is secure, quick and easy to use.
Do I qualify for a Business Line of Credit?
You can apply for a Reckon Loans Line of Credit if you:
are an  Australian Citizen (or permanent resident)
are over 18 years, own an Australian business (with a valid ABN/ACN)
can demonstrate  12 months of trading for a new business (or 3 months if you have purchased an existing business)
Can I speak to someone about a Line of Credit?
Sure thing. Call our friendly team on 1300 901 570
Why is Reckon introducing Prospa?
At Reckon, we're transforming the way small businesses access financing. We're making business lending smarter, faster and easier. That's why we've engaged Prospa, Australia's #1 rated financial services company on TrustPilot. Prospa has funded more than $1.6 billion to over 28,750 Australian businesses.
How does Reckon work with Prospa?
Reckon Loans is powered by Prospa. Reckon Limited is not a provider of financial services. Reckon Limited acts as an introducer only.
"The process was too easy. I made the phone call, answered all the questions, and it took half an hour. I was approved for a business loan within 24hrs and the funds were in my account that afternoon."
Yesha Avsar, Just Pets