RECKON ONE VS Cashflow Manager
Looking for a Cashflow Manager alternative?
Get better bang for your buck with Reckon accounting software
Save money. Reckon One pricing starts from only $12/month.
Unlimited users. Whether you have 1 or 100+ employees, our prices stay the same.
Pay for what you need. You have the flexibility to add or remove features as you need.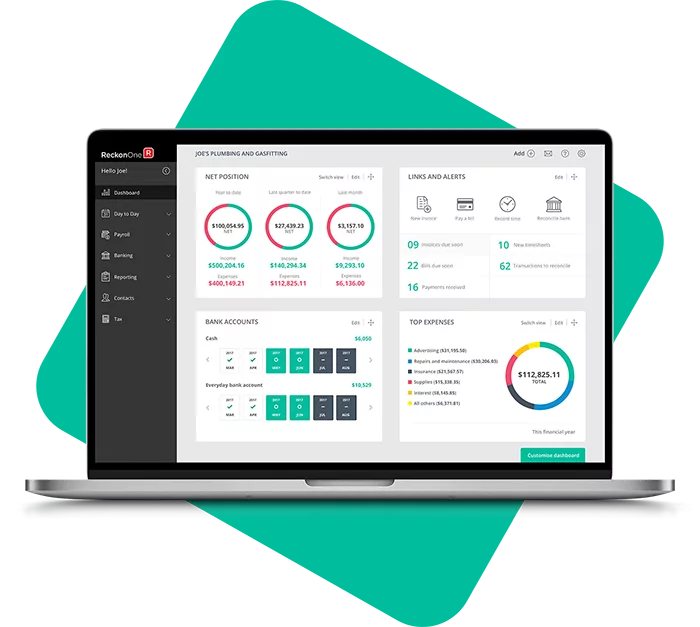 Get more features for less
Cashflow Manager 'Wages Manager' plan vs Reckon One 'Essentials" plan


Unlimited payroll for $12 per month
Cashflow Manager Bank Feeds is available from and extra $5/month. Reckon One's unlimited free phone support is available during business hours. Data correct as of August 2023.
Better value as your business grows
Unlimited invoices
Invoice away, there's no more to pay!
Payroll software for unlimited employees
including Single Touch Payroll
Unlimited users & team members
included in all our plans
Migrate from Cashflow Manager to Reckon for free
Moving your data from Cashflow Manager to Reckon is quick and easy with our migration service. It's free when you sign up for Reckon Essentials, Essentials + Payroll or Premium plans.
Affordable payroll for all team sizes

Cashflow Manager starts from $26 per month*
And if you wish to have payroll functionality, you will need to subscribe to a gold plan, with prices starting from $42.90 per month**. Ouch!
No version of Cashflow Manager includes bank feeds in the base price, setting users back an additional $5 per month for this feature.

While Reckon One starts from just $12 per month
Even when you scale up the size of your team, you'll only pay $12 a month to manage payroll and send Single Touch Payroll reports for unlimited employees!
Choose Reckon One and enjoy more features, for less!
*Monthly cost of Cashflow Manager plan at the standard price, correct as of August 2023.
**Monthly cost of Cashflow Manager Gold plan, correct as of August 2023.
There are a million reasons to love Reckon
Convinced Reckon One is the perfect Cashflow Manager alternative for small businesses?
Try Reckon One for free, cancel anytime.