Easy to use inventory management software for small & growing businesses.
TidyStock provides small and mid sized businesses with a powerful app to eliminate the unnecessary costs associated with poor inventory and stock management. TidyStock directly improves customer service and profitability through real-time stock tracking, improved stock level management and confident handling of stock from ordering to invoicing. TidyStock is suitable for single or multiple locations, making even the most complex stock handling requirements delightfully simple. TidyStock's integration with Reckon One provides a seamless and complementary integrated stock management solution to ensure all related data is only entered once and flows automatically to Reckon One.
Key features
Create and manage purchase orders including split receipts
Receipt purchase orders line-by-line and apportion freight
Bill of materials / product assemblies
Produce packing slips and sales quotes
Automatically push invoices from TidyStock to Reckon One
Managed stock – best practice accounting, perpetual stock method and average cost
Unmanaged stock – track quickly and informally
Material categories and items – unlimited SKUs
Dashboard: reorder warnings, average margin, stock turns, days of sales in inventory, etc.
Adjust stock levels manually
Locations: manage and track stock in multiple locations
Create and manage price tiers, quantity and customer specific pricing
Why use this app?
TidyStock provides an accurate record of what levels of stock are on hand to accurately fulfil customer orders, leading to better stock level management and improved customer service.

TidyStock provides effective stock level management reducing the cost associated with over/under stocking, improving stock turn and allowing capital to be more effectively deployed.

TidyStock avoids double entry of stock information into multiple systems saving valuable administrative time and reducing data keying errors.

TidyStock provides more detailed in-bound stock management capability leading to reduced costs associated with supplier shipping discrepancies, damaged goods and freight costs.
Who is it for?
TidyStock is designed for small and medium sized businesses that need a more effective, yet simple way to manage stock to avoid the pitfalls associated with poor stock management. TidyStock is suitable for businesses with stock management challenges ranging from:
keeping track of stock in multiple locations
managing stock wastage
managing stock assemblies
accounting for volume based pricing
managing consignment stock
managing stock purchases and receipting
managing the transformation of input to output unit pricing
What type of data is shared between the app and Reckon?
Customers
Suppliers
Pricing
Bills
Credit notes
Invoices
"We've been using TidyStock for years. It's brilliant. When I'm in the States and I find a part for a customer – I can access my TidyStock customer database immediately. It's simple, it's easy and I love it. We needed simplicity, fast friendly support and a system that was safe to let anyone use to check stock, customer details, or to raise a delivery docket, without the risk of errors entering the accounting system. I wanted a dedicated inventory system that was inventory driven, rather than accounting driven."
– Annie Coster | Classic USA Ford Car Parts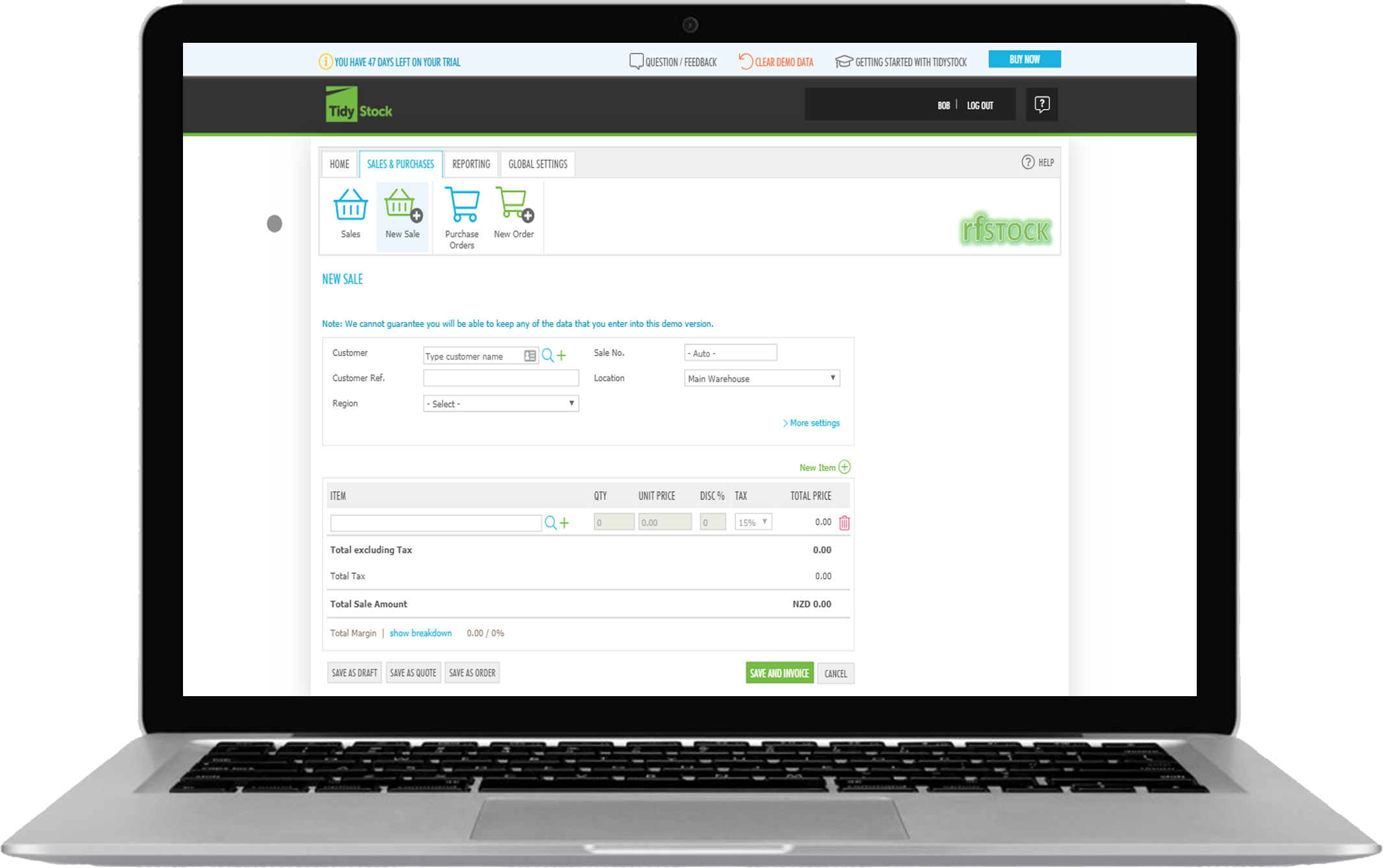 "My business would fail without TidyStock. The man hours that we would expend just managing our inventory – we would not have been able to survive. We're talking thousands of man hours a year. In order for our business to survive, it was imperative that we had something like this. Staying up with technology and integrating technology into our company has been a vital part of its growth."
– Chris Piha, Owner | Llungen Lures
When we first started searching for a stock program, we were skeptical about using TidyStock as we weren't sure it could do what we were after. However, since our decision to move forward, we haven't looked back. We are now in the process of assessing whether another Tidy system will fill the last gaps for our Management Reporting System. Overall, we are pleased with our decision to go with TidyStock and would recommend it to others.