Your bills. Your payments. Your way. 
Take control of your billing. Payreq enables Reckon Accounts Hosted users to access and manage multiple supplier invoices in one place. Automatically receive digital bills in the right format, directly to your Reckon account. Say goodbye to paper bills and time-consuming manual billing processes.
Whatever your preference for accessing and managing bills, Payreq offers you complete control.
With Payreq you can:
Save days of data entry
Reduce human error
Drive down late-payment penalties
Get notifications when bills arrive
Save paper and the environment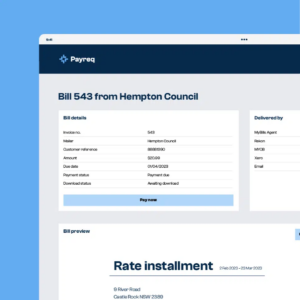 Key features
The Payreq platform collates bills into single digital files for upload to the software of your choice. Simply link your Reckon and Payreq accounts. Then, hey presto, you get the power to:
Automate payments – using any payment method
Access all documentation – current and historical (up to 7 years)
Transact on preferred platforms
Avoid email fraud – and protect their data in a private, safe space
Avoid missed payments – thanks to email notifications
Simplify your life
You also get to pay your way:
Generate batch payment files easily, straight from your software
Process payments through online banking
Set up instant card payments
Why use this app?
Payreq integration to Reckon Accounts Hosted is secure, immediate, and authenticated. You can archive and search bills for up to 7 years.
Get started
01 Create your free Payreq account at www.go.payreq.com/portal/sign-up
02 Connect your Reckon Accounts Hosted account
03 Select your billers, register and start accessing your bills.
04 Sit back! Within hours the billers will accept your subscriptions and you'll be up and running.
Who is this for?
Payreq is designed for small business owners and bookkeepers to reduce effort and increase accuracy of bill data entry.
What type of data is shared between the app and Reckon?
Suppliers
Bills
Chart of accounts
Tax codes