Expense and accounts payable automation.
Expensemanager's innovative technology automates and makes paper free the entire spend process for businesses. We do this by uniquely offering one single platform for automating expenses, supplier payments and purchases. We are an Australian company delivering world's best technology with local support and set up.
Key features
Expenses
Receipts are capture and cash claims can be created easily on a mobile app
Unlimited receipt capture and scan
Innovative digital receipts – Receipts direct from merchants flow straight into expensemanager and match to the correct user with auto fill of spend details
Automatic daily credit card statements are created and smart matched with the right receipt matched
Auto coding on common expense types with user prompts to ensure correct and easy coding
FBT wizard and reporting
Supplier payments
Supplier invoices are scanned, the data is extracted and payment requests automatically created – eliminating all manual entry
Suppliers are validated on invoice receipt and alerts to A/P if the supplier is unknown so only valid suppliers are approved and paid.
Duplicate invoices are detected on receipt and alerts sent so no more paying invoices twice.
 Purchase Orders
PO creation with supplier verification
Assign spend to projects or activities for forecasting and track against budgets
Highly configurable approval workflow options and mobile approval
Suppliers can receive a PDF purchase order document with all of the information and company logo
Purchase orders are automatically matched to invoices
One purchase order can be created for multiple payments, with auto-deduct on receipt of invoices and running balance.
All modules
Highly configurable approval workflows with approval limit verification and automatic routing. Approval can be done from a mobile device
Configurable reminders for submit and approval keeps the process flowing quickly
Auto GL coding and split allocation
Tracking codes
Multi-entity configuration & multi-currency
Audit trail
A/P portal with edit/review/reject options
Reporting
Unlimited receipt and invoice storage online and archive file automatically created for easy in-house server storage.
Why use this app?
Staff are free from paper receipts and manual expense claims. Completing an expense claim is done in minutes.Supplier invoices are paper free and approval and coding is completely automated
Cost to process is significantly reduced with completely automated workflow for all staff – claimants, approvers and finance team
Mobile app for on-the-go functionality
Frees up staff to work on higher value tasks
Error free coding and no re keying of data to finance system
Ensures policy compliance with user prompts
Spend is controlled
Higher visibility of spend and better reporting
Precise FBT reporting.
Who is it for?
Expensemanager has been designed for small to medium size businesses who have staff paying for expenses on a company credit card or being reimbursed. It replaces the paper receipts and manual expense claims with a completely paper free and automated process.
For any business who are processing their supplier payments manually and want to get rid of paper invoices and re keying of data to their finance system.
For any business that want to control their spend with an automated purchase order function.
For businesses that want to give their staff the freedom to do these tasks on the go.
What type of data is shared between the app and Reckon?
Customers
Payments
Invoices
Images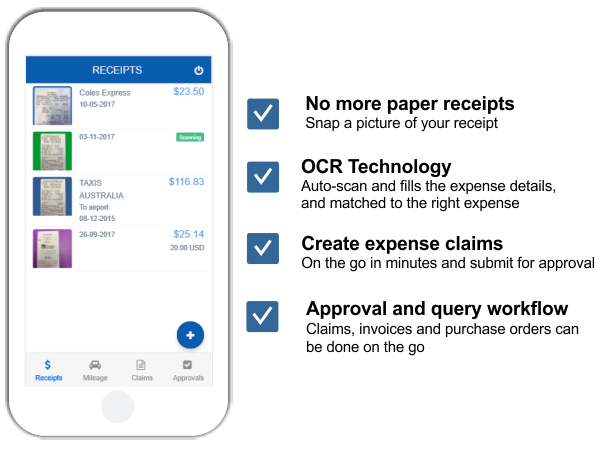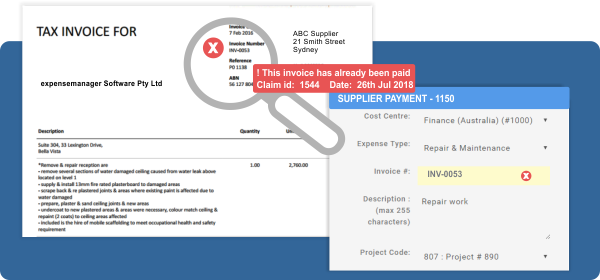 Note: Expensemanager for Reckon Accounts Desktop available through file import only.
We started using the expense module and quickly saw the benefits of automation and not having to keep paper receipts.
Based on the success of rolling out the expensemanager expense module, we decided to then look at automating our invoice process. As a result of taking up this module we are now completely paperless. We saved hard dollars in printing, filing, storage and man hours. The return on our investment IS absolutely there!
The last piece of the automation puzzle was finished when we took up the Purchase Order module. We now have high visibility and control over our spend before it happens. And because all the module are integrated there was little training required for our users with the same user friendly interface across all modules.
Not only have we reaped the benefit of automation and no more paper we have built a successful partnership with expensemanager who are always willing to work with our specific needs and being local, they are just a phone call away.