THE ROAD TO RESILIENCE
Phillip Spackman, Owner of Pyree Civil Contracting
3 min read

My dream has always been to run the family business and I'm not going to give up on that no matter what.
Phillip Spackman, Owner of Pyree Civil Contracting
When the bushfires took out seven months of Phillip's work, he could have put down the tools and given up. But instead, he channeled his energy into helping his local Shoalhaven community in NSW battle the blaze. Philip spoke to us about risking his life in the bush fire and the importance of sticking at it no matter what.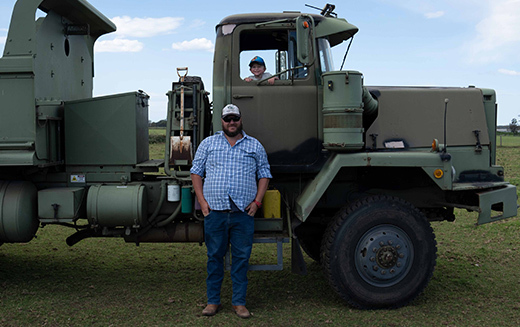 Pyree Civil Contracting is a local civil contracting company. It's a small family-run business. We specialise in road building, construction and stormwater and drainage, and anything related from the ground down.
There wasn't much else I was going to do – it's in my blood. One of the earliest photos my mum's got of me at a couple of days old is me sitting on my dad's chest as he's driving the grader. And it was the same for my grandfather. I spent a lot of time with him on the machines. I took over the business about 10 years ago. I always wanted to be the same as my father. I wanted to make him proud and follow in the family footsteps.
When I took over from my father, it was just me, the truck and one machine. Now, I currently have up to half a dozen people working for me. I have very few bad days, really. Even if it's a bad day, it's still a good day because you're with the people you want to work with, and you love what you do.
I had nearly seven months worth of work lined up and at Christmas, when the bushfires started, it just disappeared.
Due to the severity of the fires and because I'm based in a small town, there's little to no infrastructure being built. I'm also battling the big businesses from Sydney for work.
I actually fought in the bushfires themselves. I had my machines and my trucks down there with the water cart supply, driving into the flames to supply water to the firefighters. I did it all for free, because it's to save people's houses. The fires were 10 feet from me in some places. I was getting police escorted to the flames down the highway. It was pretty frightening… Sometimes, I honestly didn't think I was coming back.
Earlier this year, we started to come out of it and get more and more jobs. In February and March, we were flat out again and then in April the COVID-19 restrictions came into force.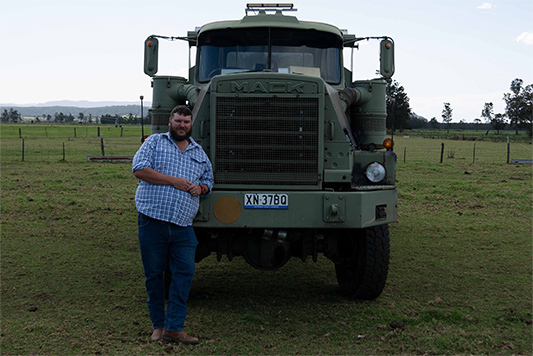 I'm currently driving to Sydney every week to subcontract to one of my mates driving gear for him. But fingers crossed… I could call it a bright side of the bush fires, but that's hard to describe. But with the cleanup effort happening – hopefully some work will come through.
A company called Laing O'Rourke won the contract to demolish all the structures that got burnt for the state government. Their aim is to hire as many locals as they can, so they're starting to put their tenders out. Hopefully the rebuilding will slowly kick in and it'll go from there.
For me, resilience is about sticking it out no matter what happens. It's never letting go and not giving up on your dream. My dream has always been to run the family business, and I'm not going to give up on that no matter what happens. I think it's so important to have a good attitude. If you're confident and happy, everyone will want you around all the time.
That's the biggest thing that makes a successful business, it's the people around you and how you treat them and the respect that's given, earned and taken – and the trust. A successful business is built on blood, sweat and tears. It doesn't matter if that revolves around doing administration, if you do accounting or if you do what I do.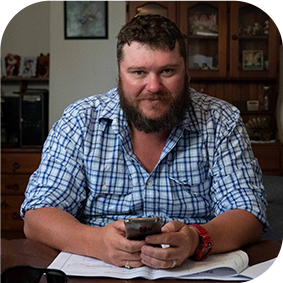 I've found in these tough times, we need more solutions than problems. Reckon has provided me with the solution I need to keep my business running. 
Reckon was recommended to us by our accountant who uses it. When we first signed up, Reckon supplied the name and number of a local guy who helped set it all up for us. He came over and did two sessions for free to show us how to use it and we've been going strong from there.
My wife finds it so easy to use – she loves it. She goes in and does all the payrolls. It's so quick and simple. Reckon has allowed me to spend more time out on site with the guys planning jobs, and less time in the office filling out invoices.
Looking to the future, I hope to expand into the training side of things and keep my business as a family operation. That's how my dad always dreamed of it and that's how I want to do it. I want to expand to the point where I can have my sister in law working for me in the office, as well as my wife. I'd also love for mum to be part time in retirement and have my brother and mates working for me.
Find out more about Reckon One software and our single touch payroll software here.
Accounting software that works as hard as you do
Take the hassle out of your everyday accounting, payroll and compliance needs through affordable, easy to use solutions.